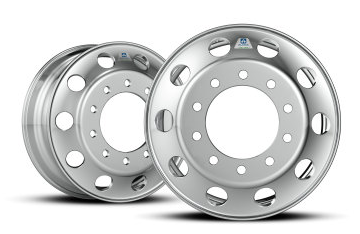 Alcoa (NYSE: AA) has rolled out the world's lightest heavy-duty truck wheel, called the Ultra ONE™ and designed to help trucks shed pounds for increased payload and fuel efficiency.
Unveiled at the Mid-America Trucking show (MATS) in Louisville, Kentucky, Alcoa's new 40-pound wheel is 47 percent lighter than steel wheels of the same size.
The Ultra ONE can help save up to 1,400 pounds per rig, enabling fleets to carry more goods while meeting stringent federal emissions regulations.
Underscoring the importance of lightweighting to the industry, one of America's largest flatbed carriers, TMC Transportation, is converting its fleet to the Ultra ONE starting in 2014. Lighter wheels improve fuel economy, helping to compensate for rising fuel prices and helping move goods in a cleaner way.
According to Alcoa, "replacing steel wheels with aluminum wheels on an 18-wheeler offsets the annual carbon footprint of an average family of four in America."
In addition, Alcoa's aluminum wheels are, according to the company, six times brighter than competitors' wheels, giving them strong aesthetic appeal, and because they are corrosion resistant and do not require stripping and repainting, lower operators' maintenance and operating costs.
More at: www.alcoa.com
Category: General Update, MATS, Wheels & Tires