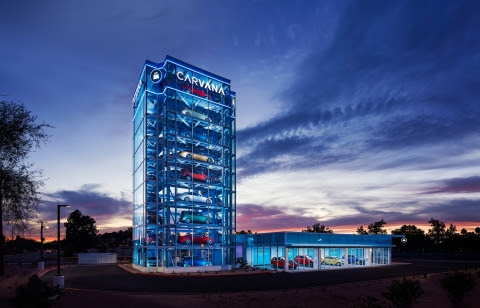 Standing nine stories high, the all-glass tower holds up to 34 vehicles and provides a fun, unique way to pick up vehicles purchased on Carvana.com. This new location in Arizona is the company's third Car Vending Machine launch this month, marking the 12th location overall.
Tempe, joins 11 other cities across the country that are home to Carvana Car Vending Machines: Houston, Austin, San Antonio, Dallas, Nashville (Tenn.), Raleigh (N.C.), Charlotte (N.C.), Jacksonville (Fla.), Tampa (Fla.), Orlando (Fla.) and Washington, D.C.
Customers who visit Carvana from home or on the go via their mobile device can shop more than 10,000 vehicles, finance, purchase and schedule as-soon-as-next-day delivery or Car Vending Machine pickup in as little as 10 minutes.
Upon arriving at the Car Vending Machine, customers receive a commemorative, oversized coin to activate the vending process and transport the car into the delivery bay. The pickup process typically takes only minutes, compared to hours haggling at the dealership. Every Carvana vehicle comes with a seven-day return policy, giving customers the chance to see if the vehicle really fits their life. Additionally, all Carvana vehicles are certified, meaning they have passed a rigorous 150-point inspection, have never been in a reported accident, and have no frame damage. Features, imperfections and updated information about open safety recalls are listed on every car's vehicle description page.
Since its founding in Phoenix in 2012, Carvana has grown its presence in the Valley of the Sun. Last year alone, Carvana opened its new headquarters in Tempe, began offering free, as-soon-as-next-day vehicle delivery to Phoenix metro residents, and opened its newest inspection and perfection center in nearby Tolleson, creating hundreds of jobs in the area.
Category: General Update, News