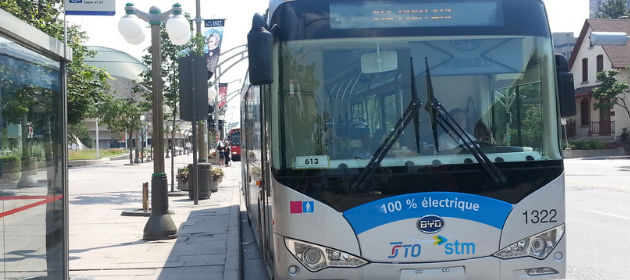 The first completely zero-emissions, all-electric bus is now operating in revenue service on the public streets of the Capital City of Canada – a first in all of Canada.
As a result, public transit passengers may ride in the long-range, ultra-quiet, BYD electric bus in operation by both the Société de transport de l'Outaouais (STO) and Société de transport de Montréal (STM) transit companies. The program in Québec is being coordinated by AVT (the Société de gestion et d'acquisition de véhicules de transport) – which was formed by Quebec's nine transit corporations for the evaluating of advanced, zero-emissions public transit technologies. STO and STM are excited to assess the performance of this break-through, all-electric battery bus designed and manufactured by BYD Ltd.
The revenue service will continue at the STM in early 2014. The objective of these two transit projects is to evaluate the overall performance of BYD's long-range, all-electric bus in varying weather conditions, compared with regular diesel powered buses. The project should help to determine and confirm the BYD Iron-Phosphate battery range which is typically 155 miles with A/C enabled in the southern United States and China, however, only limited testing has been conducted in especially cold temperatures (like Quebec could experience).
"As the first initiator of this project, the STO is especially interested in this testing because 'bus-fleet-electrification' is part of our 2005-2015 strategic development plan," explained STO Chairman Patrice Martin. "Field testing will enable our transit corporations to share results of different projects in progress and determine how this technology best meets our needs. This initiative also represents a huge step forward towards zero-emissions, all-electric bus fleets – the STO is now embarking on the path to a greener ways of doing things," stated Mr. Martin.
"Taking this direction towards sustainable mobility and clean energy is part of the Quebec government's vision with its Electric Vehicles 2011-2020 Action Plan. We know that the government will pursue its commitment by supporting new technologies capable of reducing GHGs to 25% below 1990 levels by 2020 in accordance with its Climate Change Action Plan currently being developed," added the STO's chairman.
The BYD electric bus in Canada is 12 meters long (40 feet), seats 31 passengers (with two ADA compliant wheel-chair locations) and has the most innovative power-train design unique in the industry. "Besides an extremely efficient set of in-wheel-hub motors and regenerative braking/re-charging systems, the large 324 KWh battery pack is meant to be only charged at night (off peak), for a full-day's service without en-route charging. This battery charge system offers the most autonomy of any competitive EV-bus technology," BYD Motor's President, Stella Li stated.
Category: Featured, General Update, Green, Vehicles