Vehicle lift leader Stertil-Koni has announced that Professional Auto Transport, a premier car haul carrier serving the western region of the U.S., has selected two of the company's larger capacity, heavy duty vehicle lifting systems for the transporter's brand new, state-of-the-art 14,000 square foot maintenance facility.
The new center, located in Mira Loma, California, has been designed by Professional Auto Transport to service a fleet of 130 trucks which in turn haul up to 30,000 vehicles each month to locations throughout California, Arizona, Nevada and Utah.
In terms of vehicle servicing on this scale, the demands were clear and sizeable. Explained Dave Floyd, president of Professional Auto Transport, "Maintenance is a key driver in our success. So, to better manage these costs, ensure the highest levels of safety for our technicians and to reduce vehicle downtime, we've brought the process in-house."
Continued Floyd, "In deciding which vehicle lifts to buy, we were focused on safety and quality. That's why we chose Stertil-Koni."
For its facility, Professional Auto Transport selected the Stertil-Koni ECOLIFT 90 and the Stertil-Koni SKYLIFT in a tandem configuration.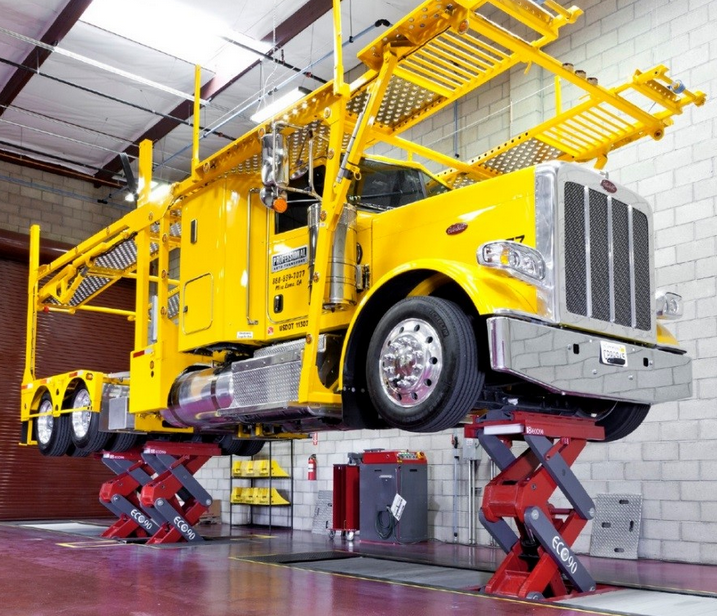 The ECOLIFT 90 is a 3-scissor configuration of the company's U.S. patented, original, ultra-shallow, full-rise in-ground, axle engaging vehicle lift. It provides wheels-free lifting, has a lifting capacity of 90,000 lbs. and combines high pressure, low volume hydraulics while requiring a mere 3.5 gallons of fluid per scissor. It has proved ideal for servicing a broad range of heavy-duty vehicles, including those with low clearance.
The other lift in use is the Stertil-Koni SKYLIFT, a superior, heavy duty platform lift that uniquely combines a clear floor concept while optimizing working space due to its vertical lifting design, all with no crossbeams or columns. In the tandem configuration, the lift provides platform runways that are more than 74 feet long and has a lifting capacity of 124,800 lbs.
Helping to make it all happen was Southwest Lift & Equipment, a Stertil-Koni distributor specializing in heavy duty transit, bus, and trucking facilities, which sold the lifts and managed the entire installation process. As Dean McDonald, president of Southwest Lift & Equipment explained, "We are the exclusive dealer for Stertil-Koni covering the regions of southern California, Arizona, Nevada and Utah. In terms of Professional Auto Transport, the facility is first-class and the lifts selected are engineered to help provide safety, speed, flexibility and efficiency in the service and maintenance of their fleet."
Concluded Stertil-Koni president, Dr. Jean DellAmore, "We exclusively specialize in heavy duty lifting, and it is extremely gratifying to see how our lifts can support a company such as Professional Auto Transport in terms of streamlining their maintenance operations while ensuring the highest levels of safety and customer support."
About Stertil-Koni 
Stertil-Koni, a brand of the Stertil Group, is the global market leader in heavy duty vehicle lifts – bus lifts and truck lifts– and is the preferred supplier to the world's leading companies in the truck and bus industries. Stertil-Koni's breadth of products meets all ranges of lifting needs and includes mobile column lifts, two-post, four-post, in-ground piston lifts, parallelogram lifts, half-scissors and its innovative axle-engaging, in-ground, scissor lift configuration, ECOLIFT. Stertil-Koni is also now installing DIAMOND LIFT across North America, a full rise telescopic piston lift designed to set new standards in precision heavy duty lifting. Stertil-Koni USA is headquartered in Stevensville, Maryland. Stertil-Koni has production facilities in Europe in The Netherlands, and in the USA in Streator, Illinois.
Category: Featured, Fleet Maintenance, General Update