Los Angeles is # 1 — but not necessarily a ranking to brag about.
A new evaluation of 1,360 cities across 38 countries shows that the U.S. ranked as the most congested developed country in the world, with drivers spending an average of 41 hours a year in traffic during peak hours, which cost drivers nearly $305 billion in 2017, an average of $1,445 per driver1.
What's more, the U.S. had three of the top five most congested cities globally, with
Los Angeles
(first),
New York
(tied for second with
Moscow
) and
San Francisco
(fifth) costing an economic drain upwards of
$2.5 billion
caused by traffic.
Angelenos spent an average of 102 hours last year in traffic jams during peak congestion hours, costing drivers $2,828 each and the city $19.2 billion from direct and indirect costs. Direct costs relate to the value of fuel and time wasted, and indirect costs refer to freight and business fees from company vehicles idling in traffic, which are passed on to households through higher prices.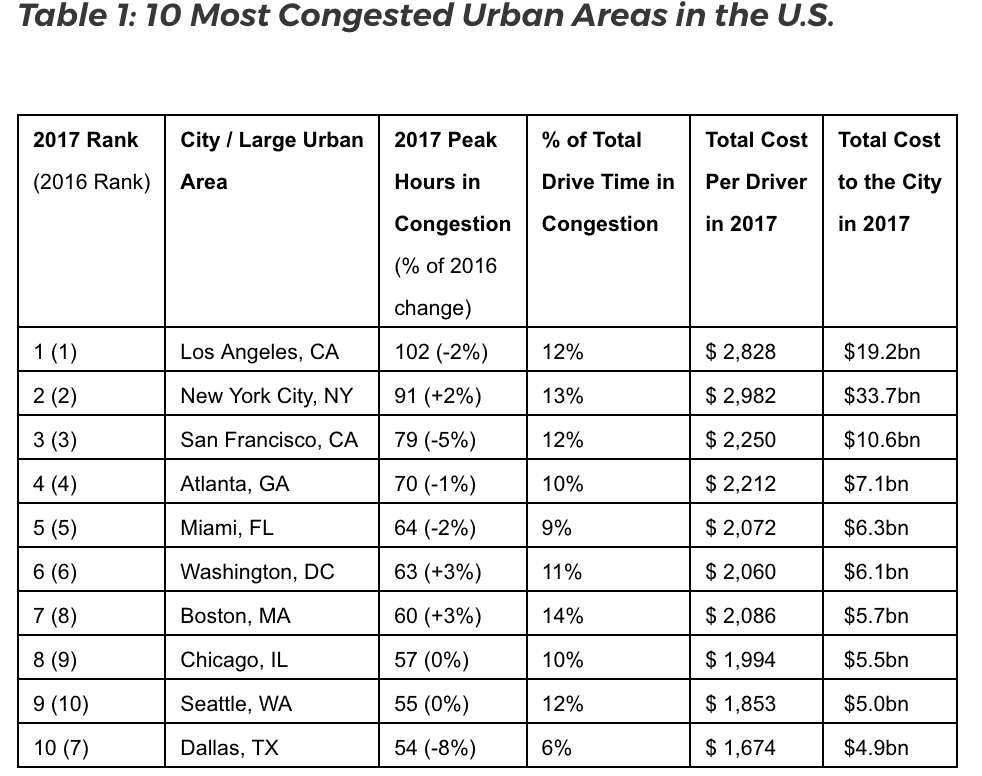 Despite the high costs of congestion in Los Angeles and other cities, American drivers, in general, had it easier than their German counterparts. At $1,770, congestion cost the average German driver 57 percent more than an American, after adjusting for exchange rates and the cost of living. Detroit had the lowest cost of congestion among the top 25 U.S. cities, at $1,256 per driver, and ranked among the bottom in all three categories of costs: commuting, business and leisure/other.
"Congestion costs the U.S. hundreds of billions of dollars, and threatens future economic growth and lowers our quality of life," said Dr. Graham Cookson, Chief Economist at INRIX, which conducted the study. "If we're to avoid traffic congestion becoming a further drain on our economy, we must invest in intelligent transportation systems to tackle our mobility challenges."
Interestingly, both New York and San Francisco, the second- and third-ranked cities in North America (91 and 79 hours spent in congestion respectively), have a similar average congestion rate as Los Angeles (13 percent), but show different commute patterns. San Francisco, for example, had the highest congestion rate (tied with Boston) on arterial and city streets during the peak commute hours, while New York holds the top spot during the daytime.
Category: Featured, General Update, News