Motor Coach Industries ("MCI"), a subsidiary of New Flyer Industries, the largest bus and motor coach manufacturer and parts supplier in North America, has substantially upgraded its MCI J4500 coach.
The goals included making the vehicle more appealing to drivers and achieving a highly sought after amenity‒more legroom, and a comfortable 60-seat capacity.
The new coach will be unveiled during MCI Reliability Rallies in the U.S. and Canada starting in July.
A reconfigured lavatory and air-intake system produced 20 inches of new floor space in the 2018 model. It allows for best-in-class legroom and an optional, rear window, the first ever on an MCI coach. New standard touches include state-of-the-art indirect LED ceiling lights, puck-style spotlights and entryway illumination. With these updates and the addition of new rear window views, the cabin feels more spacious and looks more beautiful than ever before.
According to Ian Smart, MCI president, "It has been a collaborative effort at MCI, where we focused on operator needs and passenger wants. Our 2018 J4500 is now more modern, but everything's built on MCI reliability that our operators count on. We serve many innovators in the transportation industry, and we think they will like what they see."
"Our goal was to move the needle with high impact improvements for the operator," said Brent Maitland, MCI vice president of marketing and product planning. "We wanted to improve the revenue- generating cabin space by increasing the usable floor space and seating capacity with an upgraded interior for greater passenger appeal."
Maitland explains that the project began in 2015 and was split in two – the first was focused on space maximization and the second on interior redesign.
To capture the extra 20 inches of space, MCI engineers lowered the air intake system duct 4.5 feet to just above the belt line of the coach, and reoriented the lavatory, achieving a more comfortable fit with 22 percent more in volume total. This reconfiguration allowed the last row of seats to move back 20 inches in total, providing a minimum of 15 inches more usable floor space that translates into at least a half-inch of more legroom per passenger than its closest competitors in a 56-passenger seating configuration. It also creates even seat spacing on both sides, and provides a more comfortable 60-passenger seating configuration.
Lowering the air-intake created space for MCI's rear window and a 500 percent increase in the side rear transom window for better views from the last two seats, and mechanical advantages such as improved engine air filtration and easier maintenance. The new Optair hybrid filter system from Cummins includes a standard centrifugal pre-cleaner to remove dust and water, defining a new frontier in engine air intake cleanliness.
A sleeker, more comfortable interior with color-adjustable lighting
After the redesign came the aesthetics. MCI worked with longtime partner BMW Designworks to upgrade seating, trim and lighting to create striking product differentiation for tour and charter operators. Upgraded handrails on the 2018 J4500's entryway minimize wear and new parcel racks easy-to-lock doors have finishes that resist scratches smudges and abrasions.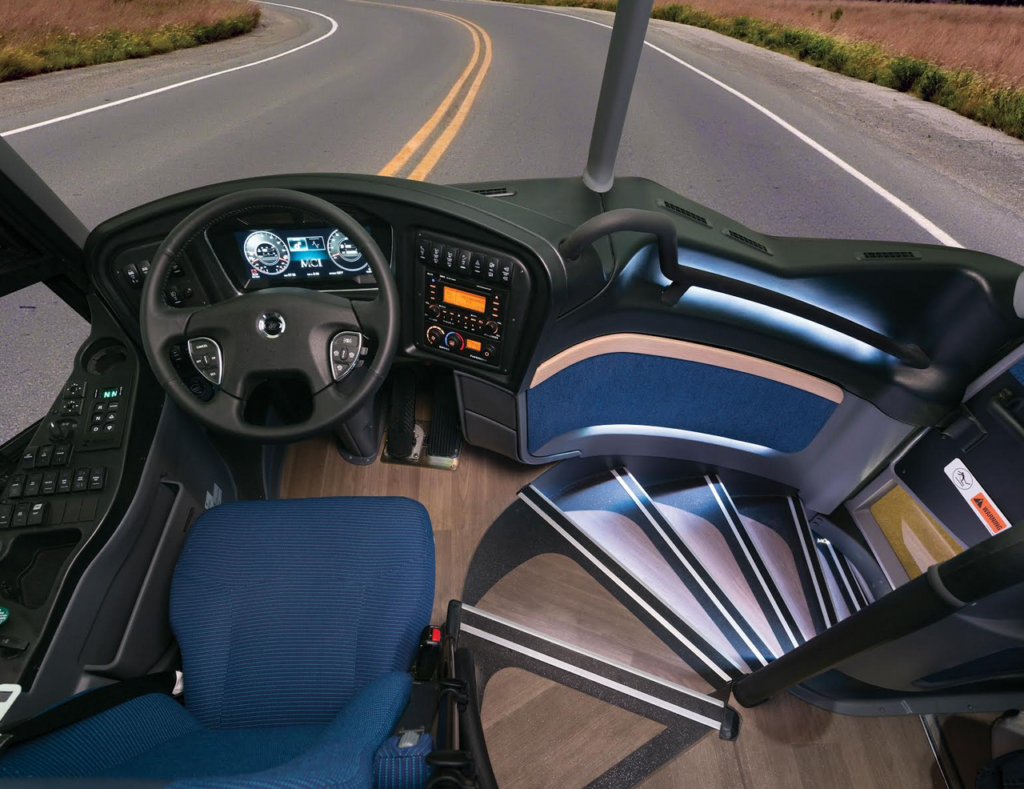 The parcel racks now integrate with the front interior cap for a cleaner look. The windshield blinds now recess into the front cap, creating a panoramic view for passengers.
And then there is the driver cockpit. It features a completely new, integrated instrument panel that reduces driver distraction and provides easier-to-read gauges at all hours of the day. The high-definition, 12-inch Thin-Film-Transistor (TFT) LCD instrument panel provides increased visibility for many key systems including tire pressure status and engine DPF regeneration notices.
This redefined space includes a slimmer left side console; with improved switches, a flexible cup holder, and a place for a cell phone or personal items, and offers better visibility over the dash hood, increased driver legroom and a toe kick.
Category: General Update