MercuryGate International, Inc., a leading independent provider of SaaS-based transportation management system (TMS) solutions, has announced the availability of a new Customer Portal that offers greater visibility on freight movements to all users.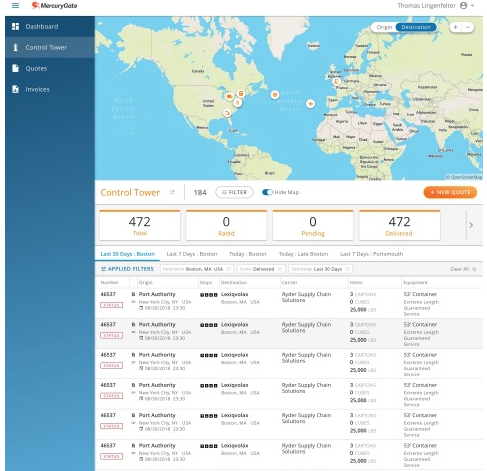 Powered by MercuryGate TMS, the new MercuryGate Customer Portal provides customers and stakeholders with an easily accessible gateway to monitor shipping with a graphical control tower view; track load activities, milestones, and related metrics via a visual dashboard and easily book a new shipping order via the Quick Add Quote functionality. With the MercuryGate Customer Portal, shippers can keep all of their stores, distribution centers, and other internal stakeholders updated. Moreover, logistics service providers (LSPs) can give their shipper customers a clear view of the location of their freight.
"Visibility, communication, and collaboration remain the primary drivers that enable transportation networks to operate at peak efficiency," said Joe Juliano, CEO of MercuryGate. "This new customer portal offers everyone involved in freight activity a clear, direct view into what's going on, allowing them to head off any potential delays."
The easy-to-use MercuryGate Customer Portal was thoughtfully designed based on direct customer interaction. The portal runs on the MercuryGate TMS, one of the most popular, innovative, and fastest growing suites of TMS solutions on the market.
Category: General Update, News