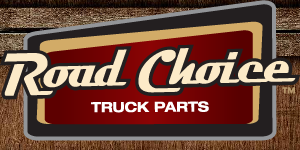 Road Choice™ Truck Parts, a trademark of Mack Trucks and an affiliate of the Volvo Group, is an aggressive new brand to enter the competitive, heavy-duty truck industry's private label all-makes market.
Offering a growing line of high-demand parts, including air conditioning, air springs, air/electrical coils and accessories, brake chambers, exhaust products, lighting, shock absorbers and universal joints, Road Choice all-makes parts are value-priced to compete with heavy-duty manufacturers' and warehouse distributors' private brand parts.
From a strategic perspective, Road Choice products are designed to offer owners of out-of-warranty trucks quality and reliability with parts covered under a minimum, one-year warranty.
"With the average life of most class 8 trucks increasing, there is a growing demand for parts at a value-price point as an alternative to genuine or remanufactured parts," says Road Choice private brand manager Dan Bambrick. "
Continued Bambrick, "Road Choice brand parts are developed specifically with the needs of second- and third-generation truck owners in mind. We've designed our line of dependable high-demand parts around their needs."
More at www.roadchoice.com
Category: Accessories, Driver Stuff, Equipment, General Update