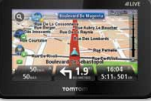 Fleet managers can make smarter, better-informed decisions courtesy of vehicle tracking solutions from TomTom.
With TomTom professional navigation, drivers can travel from one customer to the next safely, reliably and arrive in the quickest possible time.  The company's  technologies have been shown to save drivers up to 18% in terms of time per journey.
TomTom delivers real-time location, speed, mileage and fuel consumption data for each vehicle in a fleet. The result? TomTom's vehicle tracking system can help improve business efficiency and identify opportunities for savings. Vehicle tracking can even let fleet managers know which employee is closest to a new assignment, allowing companies to respond quickly and effectively
WORKsmart™-Track gives detailed, real-time data on the movement of a fleet. The system lets users compare routes, speed, mileage and fuel consumption across an entire fleet. From help with proof of delivery to monitoring working-time regulatory compliance, WORKsmart-Track vehicle tracking enables users to better understand their business.
Vehicle tracing
TomTom vehicle tracking records every journey of every vehicle in a fleet. View the "Snail trail" to see where a vehicle has been at any time over the past three months, and study driving behavior. With this feature of vehicle tracking, you can immediately look at vehicle movements to spot anything unusual and identify patterns in your business.
Green driving
A greener fleet costs less to run. WORKsmart™-Track provides immediate information that enables managers  to monitor and reduce fuel use and CO2 pollution. With vehicle tracking data on driving style, speed and idle time, companies can also limit risks and improve the safety of their drivers.
Detailed reports
Customers also get precise and reliable reports from vehicle tracking data with TomTom WEBFLEET. Flexible data formats enable users to save administrative time and money by creating PDF lists or CSV files. Merge these with existing time sheet data for easy use with salary administration packages. Reports for fleets can be automatically generated from information such as driving times, trip reports, private mileage and more.
In 2004 TomTom launched the world's first personal navigation device, and the company has been providing first-class navigation ever since. TomTom's overarching aim is to make navigation easier, faster and more reliable for all its customers.
More info at: TomTom.
Category: Fleet Diagnostics & Software, Green, Management