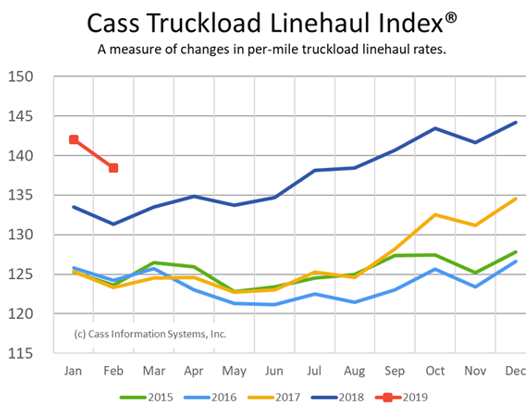 Truckload linehaul rates continued to increase in February for the 17th straight month
Compared to last year, linehaul costs were up 5.4% (with an index value of 138.4, compared to 100 in January 2005 as the base month). Truckload linehaul costs are now Just shy of the all-time high established in December 2018. The two-year stacked increase is 11.9%. "We expect continued rising costs in coming months, but at slightly lower percentage increases," said analyst and commentator Donald Broughton.

Both contract rates and spot rates are, of course, included in our index. After peaking above contract rates briefly in 2018, spot rates are now below contract rates by a more 'normalized' margin. Because the Cass TL Index is based on actual freight bills paid, we are able to remove the fuel surcharge and accessorials from each invoice and arrive at a purer base price than via any other method. Because shippers can widely vary the amount of contract and spot pricing used throughout a cycle, the Cass data allows us to arrive at the "pricing realized" and is a mixture of both contract and spot.
Intermodal Price Changes Move with Truckload Changes
As history shows us, there is an extraordinary degree of correlation between truckload and base intermodal pricing, as intermodal uses the price of the over-the-road competing service as an 'umbrella' under which it can raise prices and still retain or gain volume.

The decline in diesel prices into February finally put enough pressure on rates and demand to prevent intermodal pricing from hitting yet another all-time high (as it did last month). The February Cass Intermodal Price Index decreased 3.0% sequentially (normal) but was 6.2% higher than a year ago. This was the 29th consecutive month of year-over-year increases. And with the recent rise in WTI crude from as low as $42 a barrel in late December of last year to just over $58, we are now expecting increasing diesel prices to drive both incremental demand and incremental price increases for domestic intermodal.
Category: Featured, Fuel & Oil, General Update, News