Universal Trailer Corporation, one of the largest manufacturers of lifestyle and commercial cargo trailer brands has unveiled a new manufacturing plant in Bristol, Ind., for the production of Wells Cargo and Haulmark cargo trailers.
The $25 million-plus, state-of-the-art facility represents over two years of innovation adapted from the automotive industry to produce lighter and more durable Wells Cargo and Haulmark performance-grade cargo trailers. The new facility will employ over 200 new employees.
Located on 43 acres in Elkhart County, Ind., the 200,000 square foot facility also features several important trailer industry firsts, such as Universal Trailer's proprietary construction material, intelligent robotic welding for square and true frames; HSLA (high-strength, low-alloy) roll formed steel, double-flanged cross members to minimize road vibrations; frames dripped in paint providing advanced anti-corrosion protection; and automotive fastener technology for perfectly aligned trailer chassis, walls and roof.
The net result, according to the company, means that Universal Trailer will now deliver trailers with three times the life expectancy of many competitors.
Wells Cargo and Haulmark trailers will be produced as complete trailer frame kits, which will then be shipped off to Universal Trailer's four cargo trailer facilities around the country for further assembly and customization.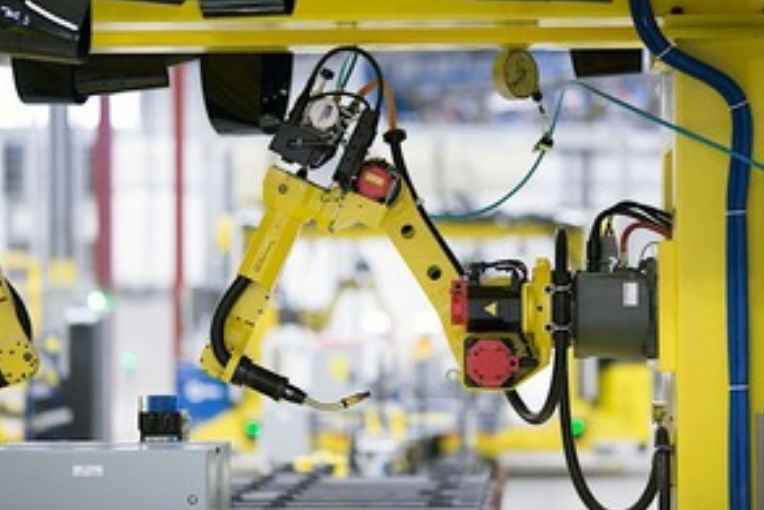 A robotic welder means micron-precision welding. "The modular production process enables us to continue to scale to meet global market demands, producing twice as many Haulmark and Wells Cargo trailers per week vs. the traditional production methods used, all the while keeping our quality high," said Terry Carlson, CEO of Universal Trailer. "The new plant also takes our employees' experience into account with an open, modern architecture and internal windows to the show floor throughout the facility. Needless to say, it's also great for the local Elkhart County economy with 35 new hires and plans to hire an additional 175 full-time and part-time employees over the next 18 months."
"The status quo is not good enough, so we embarked on a mission to create a more durable trailer that can go anywhere and withstand the test of time," added Jeff Howes, Vice President of Marketing Universal Trailer. "Not only did we redesign our cargo trailers, we incorporated the latest in automotive engineering and manufacturing techniques to make the Haulmark and Wells Cargo trailer frames truly unique in the industry."
Category: Cab, Trailer & Body New, General Update