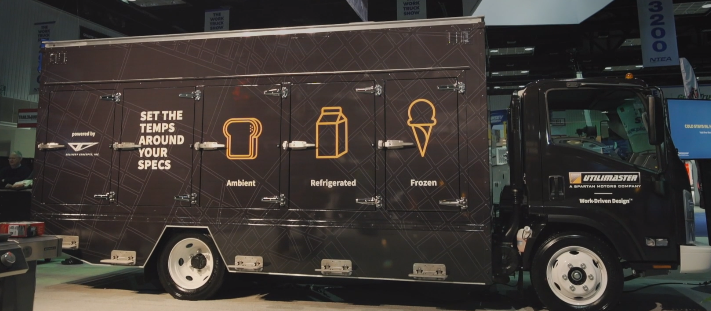 EV solutions provides fresh approach to grocery and food deliveries
Spartan Motors, Inc. which goes to market under the Utilimaster®, Spartan Upfit Services, and Strobes-R-Us go-to-market brands, introduced three new vehicle platforms at The Association for the Work Truck Industry (NTEA) Work Truck Show today during a press conference in Indianapolis. The fleet vehicles, including two fully electric vehicle (EV) platforms alongside a truck body specifically developed for last mile grocery delivery, were unveiled by Spartan Motors' President and Chief Executive Officer, Daryl Adams at the IndianapolisConvention Center.
Among the in-booth vehicle reveals were two electrified chassis, including an innovative walk-in van in collaboration with Motiv Power Systems. The chassis is powered by lithium ion batteries and includes technologies such as: collision mitigation system, 360-degree cameras displayed on a 9″ HD in-dash monitor, and DOT sensors, amongst other innovative features. The Utilimaster walk-in van powered by Motiv's EV chassis offers the same performance as a traditional fuel equivalent vehicle, at an 85 percent reduction in operating costs and 66 percent reduction in maintenance costs, over the life of the vehicle.
The second electrified chassis revealed is the first for Spartan Motors and Cummins as they collaborated to provide an electrified last mile delivery vehicle, specifically designed for the parcel delivery market. Built on Isuzu's strip chassis, the same chassis leveraged by Utilimaster's Reach® vehicle, its powertrain boasts a state-of-the-art battery system giving drivers an 85-mile range, a 3,200 lb. payload, and an under 6-hour charge time. This zero-emission EV platform represents a market-changing innovation for parcel and non-parcel delivery fleets in a GVWR Class-3 platform. Currently, the Reach® vehicle is being used on parcel delivery routes across North America.
"By introducing these new vehicles and corresponding technologies, our goal is to advance the future of electric vehicles for the last mile delivery segment; and in doing so, create a better experience for our customers, operators, and consumers," said Adams.
Category: Featured, General Update, Green, News