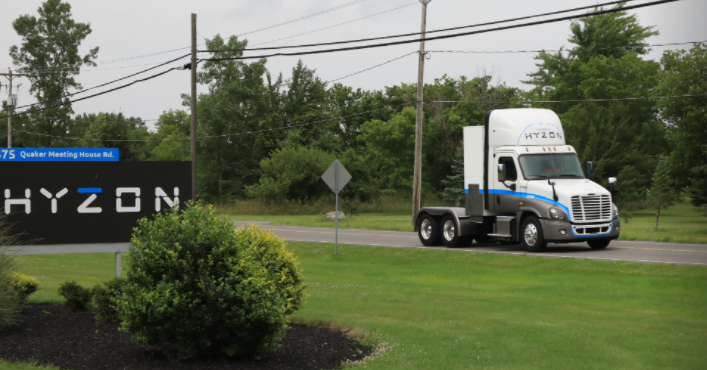 Hyzon is the only supplier of ultra-heavy-duty hydrogen trucks with in-house fuel cell technologies
Hyzon Motors Inc. (NASDAQ: HYZN), a leading global supplier of zero-emission hydrogen fuel cell-powered commercial vehicles, announced today that it has received a definitive order for five, 154-ton trucks from Ark Energy Corporation, the Australian subsidiary of the world's largest zinc, lead and silver producer, Korea Zinc.
Under the order, Hyzon is obligated to deliver the zero-emission vehicles to Ark Energy by the end of 2022. Ark Energy will lease the trucks to its sister company, Townsville Logistics, which will deploy them in triple (three-trailer) road train configurations as part of their short-haul fleet operating on a 30-kilometer loop from the Port of Townsville to the Sun Metals zinc refinery owned by the group. The fuel cell trucks, replacing their diesel equivalents, are expected to reduce carbon dioxide emissions by over 1,400 tons per year.
Hyzon expects to assemble the vehicles in Australia, aligning with the company's plans to boost local Australian production of fuel cell vehicles. Hyzon expects that the vehicles will be fueled at Ark Energy's SunHQ hydrogen hub in Townsville, with green hydrogen produced from an electrolyzer powered by a co-located solar farm.
The project is expected to be the first in the world to use Hyzon's ultra-heavy-duty fuel cell vehicles.
"Hyzon is the only hydrogen commercial mobility company that can meet our needs," said Ark Energy CEO Daniel Kim. "Our fuel cell trucks need to be 154-ton rated, built to Australian Design Rules and delivered by the end of next year. That was the ultimate basis for placing this order."
Hyzon is committed to developing its next-generation 370kW fuel cell systems (equivalent to 500 horsepower); this project will help advance the growing market for this application in Australia's ultra-heavy transport sector as well as other adjacent industries including the mining, rail and marine sectors.
"This definitive order from Ark Energy is a prime example that decarbonization is happening now," said Craig Knight, CEO of Hyzon. "Our work with Ark Energy will help lay the foundation for an emissions-free future in Australia."
Category: Cab, Trailer & Body, Electric Vehicles, Engines & Drivetrains, Equipment, Featured, Fuel & Oil, General Update, Green, News, Products, Tech Talk, Vehicles