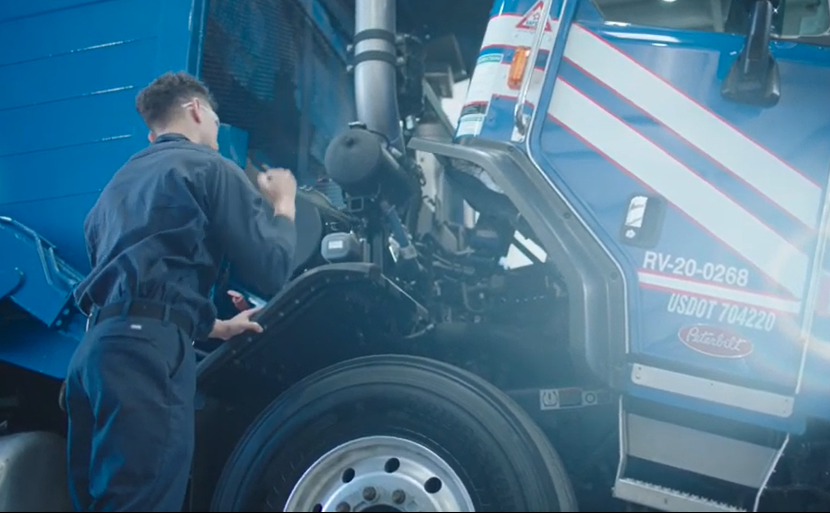 Next Generation Trade School Provides Free Education & Student Compensation
Republic Services, Inc. unveiled its $18 million Technical Institute, the industry's first-ever diesel technician training program. As the need for skilled workers continues to increase, this investment offers free, best-in-class training, fully compensating students during the 12-week program. Graduates will immediately begin full-time work, joining Republic's 35,000 employees at one of its 180 local business units. The state-of-the-art, 76,000 sq. ft. facility is located in Dallas.
The training program was developed in partnership with Lincoln Tech, the premier authority in post-secondary education for auto, diesel, and skilled trades, to address the national diesel tech shortage. The program also features life skills training that is designed to support leadership development, inclusion and diversity, and overall student wellness. This comprehensive approach is a unique differentiator that will further engage students in their training and position them for success in their personal lives.
"The Republic Services Tech Institute is an investment in both our current employees and the employees of tomorrow, further demonstrating our commitment to being the place where the best people come to work," said Jon Vander Ark, president and chief executive officer. "We look forward to welcoming these new graduates as they contribute to our highly trained workforce, increasing the reliability and consistency of our customer experience."
Republic Services covers all costs, including tuition, travel, and lodging during the training for those who qualify – and participants also earn a salary throughout the duration of the program. Following the 12-week program, they will be offered full-time technician positions in one of the 45 states in which Republic operates, performing ongoing maintenance and critical repairs. Graduates will receive a competitive salary, flexible medical and dental insurance options, 401(k) benefits and paid time off.
Republic is targeting a candidate pool that will extend its already inclusive and diverse workforce and propel the Company toward its ambitious diversity goals. Trainees will include veterans looking to re-enter the civilian workforce, recent high school graduates and individuals from underprivileged areas.
"Republic has long been committed to building strong communities," said Sumona De Graaf, senior vice president and chief human resources officer. "These are new, non-entry-level jobs designed to help stimulate local economies and fill the shortage of highly skilled technicians nationwide."
To learn more about the Technical Institute or to begin the application process please visit https://www.republicservices.com/tech-institute
Category: Breaks, Suspensions & Chassis, Engines & Drivetrains, Equipment, Featured, Fleet Diagnostics & Software, Fleet Maintenance, General Update, Management, News, Shop Stuff, Training, Vehicle Lifts