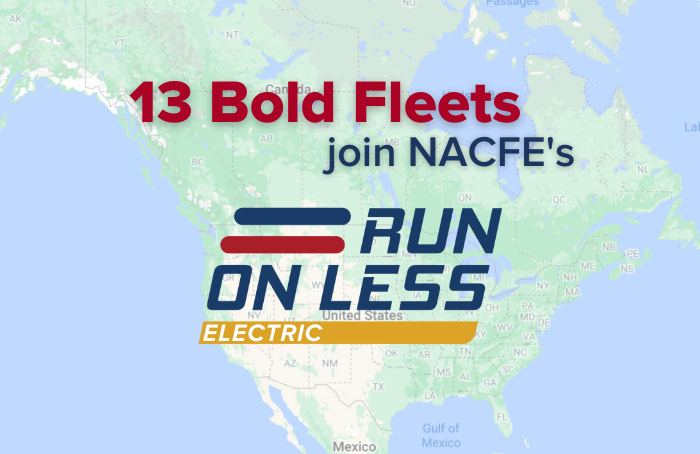 Real-World Study Shows That Certain Trucking Segments Are Ready to Go Electric and Save
100 Million Metric Tons of CO2
A real-world study of 13 electric trucks delivering freight across North America has found that if all U.S. and Canadian medium- and heavy-duty trucks became electric, about 100 million metric tons of CO2 would be saved from going into the atmosphere.

Known as Run on Less – Electric and run by the North American Council for Freight Efficiency (NACFE) and RMI, the study concluded this week after monitoring the electric trucks for the past three weeks. The trucks followed their regular routes delivering beer, wine, packages, electrical equipment, and more.
All 13 trucks participating in the Run completed their daily routes hauling real freight in their respective locations and helped to validate some of the earlier findings from NACFE's Electric Truck Bootcamp that took place just prior to the Run.

NACFE estimates that the four segments featured in the Run encompass 5.2 million vehicles but that these market segments are a gateway to the larger opportunity in longer regional-haul and long-haul trucking. Therefore, the industry will be able to leverage the learnings from the four early-adopter market segments for even greater reductions in CO2.

During the next six to 12 months, NACFE, RMI and various other partners will analyze both the quantitative and qualitative data collected during the past three months — including data from the Bootcamp trainings, fleet interviews and the Run itself. This will result in several reports and tools to help lead the industry forward. But NACFE believes the entire trucking industry has a responsibility to act now and begin the transition to electric trucks.
NACFE thanks the fleets and drivers who participated in the Run, as well as the manufacturers and other businesses, utilities and governmental and nongovernmental agencies that supported the Run. Without the combined efforts of a variety of people in the electric truck ecosystem, the Run would not have been such a success. NACFE would also like to thank title sponsors Dana, Meritor and Shell for their support of the Run, as well as all the event and supporting sponsors for making Run on Less – Electric possible. A complete list of sponsors can be found here.
Click here to view an infographic of our initial findings.
Category: Driver Stuff, Electric Vehicles, Engines & Drivetrains, Featured, Fuel & Oil, General Update, Green, News, Tech Talk, Vehicles