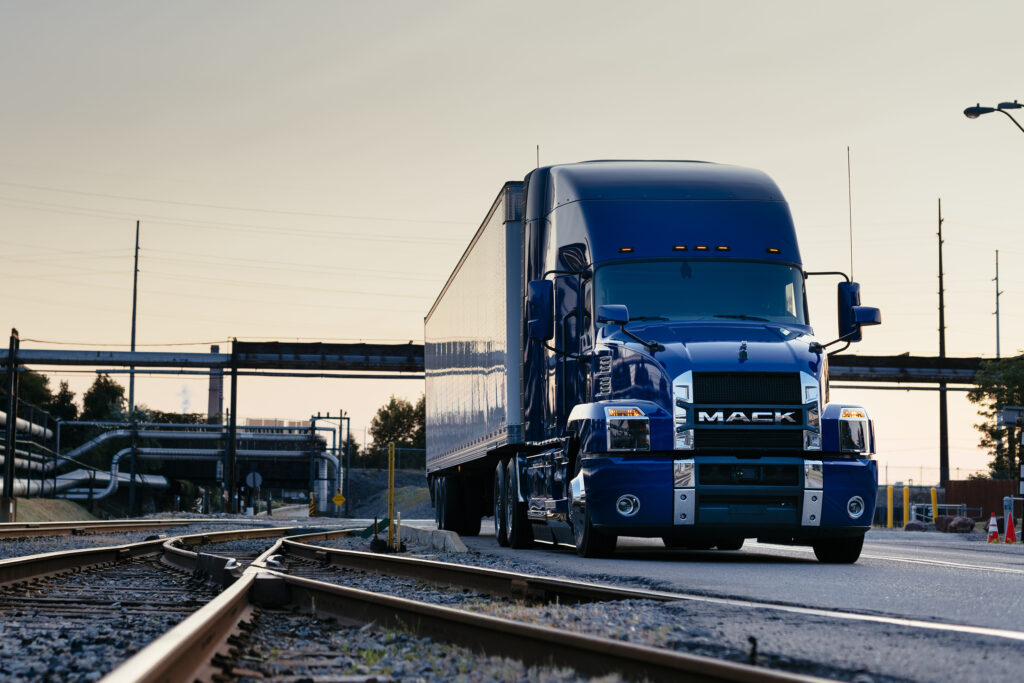 Mack Anthem model is equipped with the 13-liter Mack® MP®8HE+ efficiency package, which delivers up to 13% greater fuel efficiency when compared with the baseline Anthem* model
Mack Trucks announced today that it will highlight the Mack Anthem® model spec'd with a selection of Mack's top fuel efficiency, driver productivity and safety technologies during the American Trucking Associations Management Conference & Exhibition (ATA MC&E) Oct. 23-26, 2021 at the Music City Center, Nashville, Tennessee.  
The 70-inch standup sleeper Mack Anthem model is equipped with the 13-liter Mack® MP®8HE+ efficiency package, which delivers up to 13% greater fuel efficiency when compared with the baseline Anthem* model. The package includes Mack's revised MP8HE engine, the Mack mDRIVE™ automated manual transmission, a variety of aerodynamic enhancements and Mack Predictive Cruise.
"The Mack Anthem spec'd with our Mack MP8HE+ efficiency package checks all the boxes for fleet customers seeking to lower their total cost of ownership through greater fuel efficiency," said Stu Russoli, Mack highway product manager. "As fuel prices fluctuate, our customers know that the MP8HE+ efficiency package helps them secure the greatest return on their investment."
Equipped with Mack's most comprehensive aerodynamics package, the Mack Anthem model in Mack booth No. 8063 includes extended chassis fairings that yield up to a 0.5% fuel efficiency improvement compared with the base Anthem model. The Anthem's factory installed FlowBelow tractor AeroKit system adds up to another 2.23% fuel savings by improving air flow around the rear axles.
Central to the HE+ efficiency package is the Mack MP8HE engine, featuring Energy Recovery Technology. The technology delivers additional torque to the crankshaft by capturing waste energy from the engine's exhaust. The engine's wave piston design promotes more complete and consistent combustion in the cylinder, delivering additional benefits. The engine also boosts efficiency through an optimized 18:1 compression ratio and updated turbocharger wastegate.
To highlight Mack's focus on driver productivity, the Mack Anthem model features Mack Command Steer. Mack's driver-assist technology reduces driver effort by up to 85% through the assistance of an electric motor on the hydraulic steering system. The motor applies torque as needed based on the input of multiple sensors monitoring road conditions, helping drivers safely maintain their intended course and reduce the risk of overcorrecting through a variety of conditions, like wind gusts, tire blowouts and banked roads.
"Driving a heavy-duty truck can place great strain on professional drivers," Russoli said. "Command Steer supports the driver by reducing the workload, promoting a safer, more productive work environment while delivering the goods we need."
With Command Steer, drivers also experience smoother steering feedback during normal driving conditions because the system helps even out and suppress rough roads or disturbances like potholes. Command Steer's smart return-to-zero feature helps drivers maneuver by automatically returning to center position.
Specs for the Mack Anthem model displayed in Mack booth No. 8063 at ATA MC&E include:
Mack Anthem 70-inch sleeper
Engine: Mack MP8HE-445SE, 445 horsepower, 1,860 lb.-ft. torque
Transmission: Mack mDRIVE 12-speed automated manual transmission
Features: Mack Command Steer; Mack Advantage chassis; Mack FXL12.5 12,500-lb. front axle; Mack Maxlite 40EZ air suspension; and Mack PowerLeash™ engine brake
Features: Meritor MT40-14XC, 40,000-pound rear axle;; Mack ClearTech One™ exhaust aftertreatment system; Mack GuardDog® Connect uptime solution; Bendix Wingman Fusion collision avoidance system and Mack Road Stability Advantage by Bendix.
Category: Cab, Trailer & Body, Cab, Trailer & Body New, Driver Stuff, Engines & Drivetrains, Equipment, Featured, Fuel & Oil, General Update, Green, News, Products, Vehicles