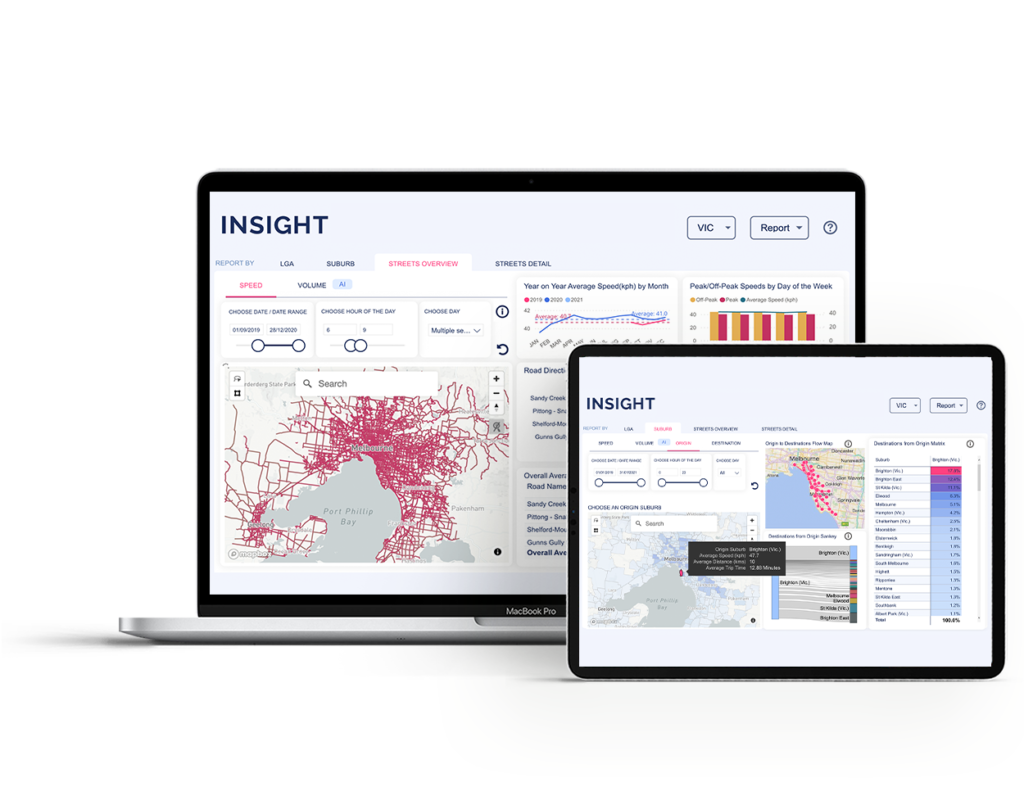 Swinburne's predictive model achieved high prediction exceeding 99 per cent for speed and above 96 per cent for traffic volumes
Swinburne University of Technology has partnered with Australia's leader in traffic data and mobility insights, Intelematics, to develop a new model that can predict traffic patterns up to 60 minutes in advance.
The model was developed using Hoddle Street – one of Melbourne's busiest arterial roads that regularly experiences high rates of congestion – as a test case. Using data collected over a twelve-month period, capturing 70,072 observations about north and southbound traffic, traffic speeds and volumes can now be predicted with over 96 per cent accuracy.
The hope is the model can be used in the next generation of mapping and traffic applications and tools to give drivers better information to plan their journey before they travel. Professor of Future Urban Mobility, Hussein Dia, and PhD student Rusul Abduljabbar performed a traffic prediction study, from June 2020 to May 2021, using data collected by Intelematics and stored in the INSIGHT traffic analytics platform.
Intelematics INSIGHT is a traffic data-as-a-service platform that hosts road and traffic data covering more than 36,000kms of NSW and Victorian roads. With over 2 trillion data points, INSIGHT collects traffic data from various sources including sensors, cameras, and in-vehicle trackers.
The data was used by the Swinburne team to develop machine learning algorithms for traffic prediction to allow instant analysis of traffic trends and patterns down to 15-minute time segments. The result is a highly accurate traffic prediction model that opens up possibilities for implementing in connected vehicles and the future of mobility.
The breakthrough was achieved as part of Ms Abduljabbar's PhD studies in Smart Urban Mobility/Artificial Intelligence (AI) in Transport. Professor Dia sees the predictive traffic model as part of the next generation of travel information to be used by drivers.
'It's for drivers and businesses who aren't ready to start their travel right now but want to know what the traffic conditions will be like in 30 or 60 minutes, when they are ready to leave,' Professor Dia says.
'Importantly, expected delays on major and minor roads can be determined ahead of time, which reduces costs of lost time spent in traffic delays.'
As part of the study, Professor Dia and Ms Abduljabbar met with industry and government representatives and identified a capability gap in the traffic data market and that local councils, government agencies, transportation engineering firms could all benefit from the ability to predict traffic accurately.
'This type of forward planning is key for businesses, officials and planners wanting to develop an evidence-based business case and funding bid that accurately projects the expected benefits to drivers, the environment, and the local economy,' Intelematics CEO Nick Marks says.
'Intelematics is pleased to have played our part in helping to develop what could form the basis for the next-generation of smart mobility, mapping tools and applications used by businesses and road users. It is exciting to think how this tool could transform the morning commute or increase the speed at which businesses make deliveries and fleets operate,' Mr Marks adds.
Swinburne's predictive model achieved high prediction exceeding 99 per cent for speed and above 96 per cent for traffic volumes, based on the extracted data. Intelematics and Swinburne are now looking at how they can collaborate further to address urban traffic challenges.
Category: Connected Fleet News, Driver Stuff, Equipment, Featured, Fleet Diagnostics & Software, Fleet Tracking, General Update, News, Safety, Tech Talk, Tools