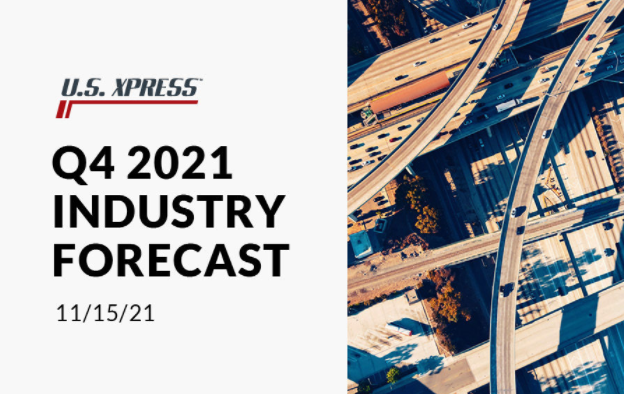 Persistent pandemic-related challenges continue to impact nation's supply chain
U.S. Xpress Enterprises, Inc. released its Q4 2021 economic forecast, highlighting a variety of trends and updates specific to the logistics industry. The full, detailed forecast can be found on the Company blog. Two key themes emerged for the remaining weeks of 2021:
The overall state of the economy and consumer demand.
Ample stimulus and unemployment benefits combined with low interest rates have buoyed consumer spending throughout the pandemic. As unemployment numbers continue to drop and stimulus dollars dry up, the question is if consumer purchasing power and sentiment will remain strong over the coming quarters. This holiday shopping season will inform the resilience of the American consumer and the continued durability of the supply chains.
Continued focus on truckload capacity amidst persistent driver scarcity.
The American Trucking Associations estimates the industry will be down 100,000 professional truck drivers by year-end. Industrywide, increases in driver pay per mile have not been enough to bring more professional truck drivers into the market. Supply chain bottlenecks and labor shortages across the country have contributed to increased wait times for drivers. Tasks such as pickup and drop-off that used to take less than an hour can now take three to four hours. Drivers are paid when freight is moving, and the increased wait times may help to explain why increases in per mile pay haven't led to increased capacity as they have in previous cycles.
In addition to these key themes, the passage of President Biden's $1 trillion infrastructure legislation and the recent Occupational Safety & Health Administration's (OSHA) rule will likely have impacts on the logistics industry, which may take some time to fully realize.
"The past year has placed a spotlight on the nation's fragile supply chain, with more people understanding the ripple effects of international shipping delays and worker shortages," said Eric Fuller, President & CEO of U.S. Xpress. "As we begin to turn the corner in this prolonged pandemic, it's important to recognize the sustained hard work of the nation's logistics professionals, from truck drivers to retail workers, to all the front-line folks who have kept the country running."
Category: Featured, General Update, Management, News