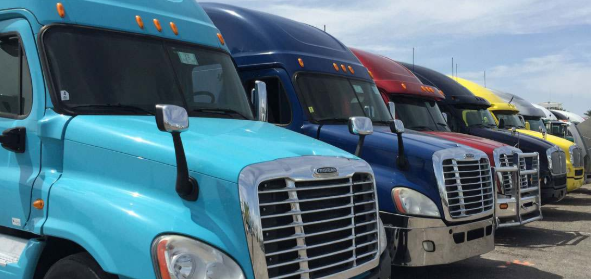 ACT Research reports dealers are still not able to meet the voracious demand, used truck prices continued on their upward trek in October
Preliminary used Class 8 volumes (same dealer sales) decreased 3% month-over-month and dropped 24% y/y in October. That said, through the first 10 months of the year, activity is 4% higher compared to the same period a year ago, according to the latest preliminary release of the State of the Industry: U.S. Classes 3-8 Used Trucks published by ACT Research.
Other data released in ACT's preliminary report included month-over-month comparisons for October 2021, which showed that average prices rose 3%, as average miles and age gained 1% each compared to September. Compared to October of 2020, average price was 67% higher, with average miles and age greater by 3% and 5%, respectively. On a year-to-date basis, average price is 48% above its year-ago level for the first 10 months of 2020, with average miles down 2% and age unchanged on a year-to-date basis.
According to Steve Tam, Vice President at ACT Research, "Despite preliminary same dealer sales slipping into contraction territory on a month-over-month basis, the unusual, on a seasonal basis, sequential softness held no sway over the longer-term year-to-date comparison, which edged higher." He elaborated, "The industry's ability to outpace 2020, albeit by a small margin, is nothing short of miraculous, given all the challenges used truck sellers have faced this year. In the context of the lowest level of inventory the industry has probably ever seen, dealers have pulled out all the stops in an effort to provide buyers with as many units as humanly possible."
Tam continued, "However, since dealers are still not able to meet the voracious demand, used truck prices continued on their upward trek in October." He concluded, "Given the dynamics of underlying fundamentals, namely freight and freight-hauling capacity, prices are likely to continue climbing higher in the near term."
Category: Cab, Trailer & Body, Featured, General Update, News, Products, Shop Stuff, Vehicles