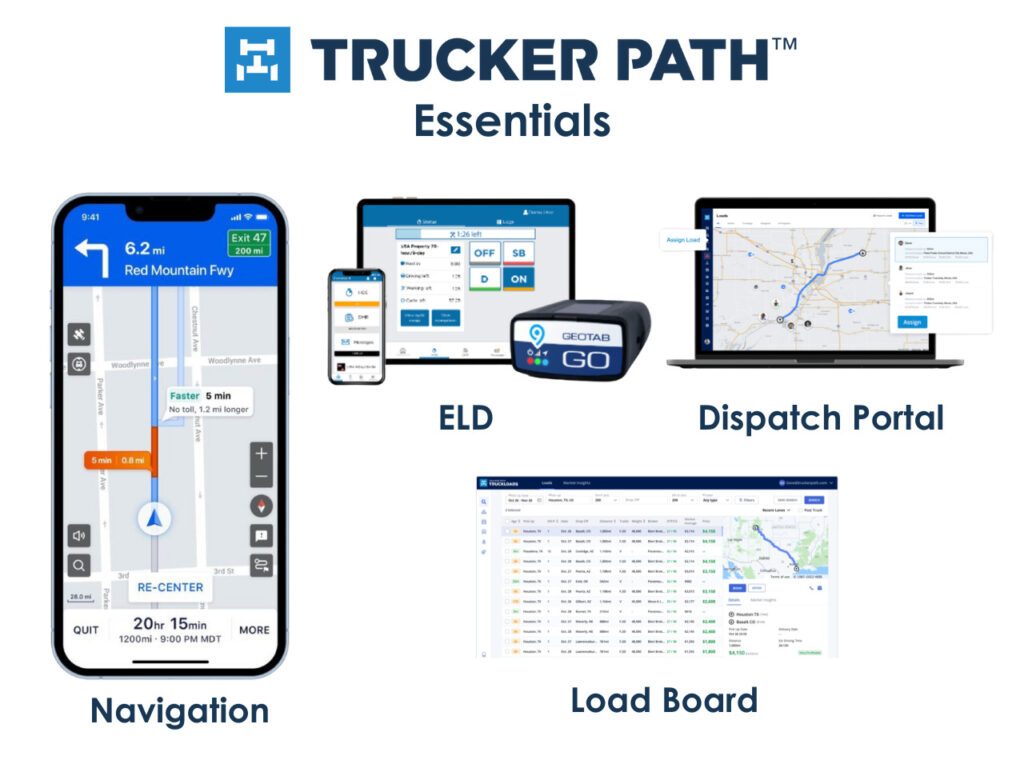 Combined ELD, load board, dispatching portal and truck navigation address core needs of small- to mid-sized trucking companies at an affordable price
Trucker Path, the most comprehensive and most used mobile app for North American truckers, announced Essentials, an affordable bundle of products for small to mid-sized fleets. Included in the package are truck-safe navigation and routing, ELD, load board and direct-to-app dispatching solutions.
"Our new Essentials package includes everything a small- to mid-sized carrier needs to efficiently and effectively grow their business," said Chris Oliver, CMO at Trucker Path. "Not only does Essentials save our customers 35% compared to the cost of buying individual products, but it also provides an advantage when it comes to support and coordination, and seamless interoperability from a single provider. Most importantly, these products include features that support our customers' current needs as well as those they will encounter as they grow. Running a trucking company is tough, but our Essentials package makes it easier and for a very affordable price."
Essentials from Trucker Path includes:
· ELD: Powered by Geotab for keeping drivers compliant and safe (includes electronic DVIR capabilities)
· LOAD BOARD: TruckLoads, offering unlimited access to search, bid and even book profitable loads quickly and easily
· DISPATCH PORTAL: Fully integrated, easy-to-use software that makes it simple to dispatch loads directly to the drivers' Trucker Path app
· TRUCK-SAFE ROUTING & NAVIGATION: North America's most relied upon real truck mapping and navigation from Trucker Path
Fleets using other brands of ELDs to meet regulatory requirements can also take advantage of the Essentials bundle from Trucker Path without its ELD solution.
To learn more about Trucker Path Essentials, visit www.truckerpath.com/essentials.
Category: Accessories, Cab, Trailer & Body, Connected Fleet News, Driver Stuff, Equipment, Featured, General Update, News, Products, Safety, Tech Talk, Tools