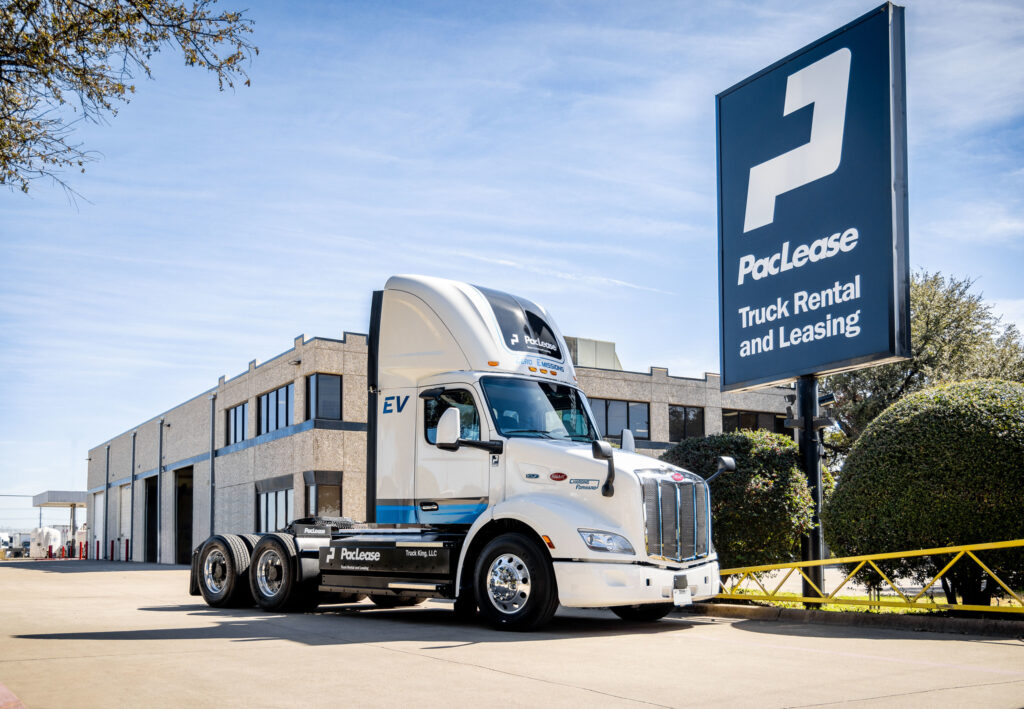 Truck King Takes Delivery of Peterbilt Model 579 EV Day Cabs
PacLease, a leading full-service lease and rental company, presented keys for two Peterbilt Model 579 EV Day Cabs to Truck King, a Dallas-area trucking company. The day cabs, on a full-service lease through PacLease Dallas, will be used for local line-haul operations – running approximately 100 miles roundtrip.
"This lease with Truck King represents the beginning of a new journey as PacLease increases its presence of leasing and renting electric Peterbilt and Kenworth trucks," said Ken Roemer, President of PACCAR Leasing. "The dominoes are beginning to fall and with other orders being filled soon –– we're on our way."
"We had the opportunity to lease EV trucks from PacLease and be part of the whole world changing into electric opportunities," said Cole Smith, President and CEO of Truck King. "We're very excited about leading the way with electric trucks in the Dallas area."
Truck King operates 65 trucks in the Dallas-Fort Worth metroplex – a mix of flatbed and box trucks – hauling components used in manufacturing for local companies. "We did a cost analysis on maintenance and fuel for our diesel trucks compared to leasing EV trucks from PacLease and we saw that it was a smart move on our part to look at the future," said Smith. "And since PacLease opened the door for us in getting grant money from the state of Texas, the cost difference wasn't that far off."
With the growing emphasis on emission reduction and the emerging electric truck market, PacLease has invested in a robust charging infrastructure, certified technicians, and Kenworth and Peterbilt medium and heavy-duty electric truck models at its U.S.-based PACCAR Leasing company stores. "This spring, our electric rental trucks will make their debut in Texas," said Roemer. "We plan to add EV units at other locations throughout the year as well."
According to Roemer, there has been a lot of behind-the-scenes work performed in getting ready to support electric vehicles. "The truck is only part of the equation: grants, infrastructure, chargers and qualified/trained support at our service facility, are all part of PacLease's investment in this new technology," he said.
"For those wanting to test the waters in electric trucks, we feel there is no better way than leasing. You don't have to go it alone – PacLease can help simplify the process and make the transition to electric easy by providing a full-service leasing option where we take care of everything. This allows our customers to focus their energy on its operations."
Roemer said that while electric trucks do cost more, the cost can be offset by grants allowing the fleet to realize the savings in using electricity versus diesel. "Our partners at Kenworth and Peterbilt have dedicated staff to work and secure grants for customers interested in leasing or purchasing electric trucks," he said. "This helps drive down the lease rate. Coupled with the savings of using electricity, electric trucks can be more affordable than one might think."
While PacLease is building out charging stations at select PacLease locations, the company will also work with its customers to help them power up their own locations. "We're actively working with local utility companies to come up with the right power plan," Roemer said. "And, through PACCAR Parts, we can provide charging stations that meet the electrical needs – all of which can be built into the lease payment.
"Like with any new technology, there isn't a switch to turn everything on all at once," added Roemer. "Electric trucks are just coming on board and we're gearing up as more trucks come into the pipeline. It's an exciting time. As we move forward, we expect strong adoption of our lease programs. Bottom line: We're ready in strategic areas and are currently solidifying plans in other locations. We want those interested in moving to electric to take advantage of our expertise and we want to help them get ready for their own ride into the future with clean, quiet, and efficient electric trucks."
Category: Cab, Trailer & Body, Cab, Trailer & Body New, Electric Vehicles, Engines & Drivetrains, Equipment, Featured, Fuel & Oil, General Update, Green, News, Products, Vehicles