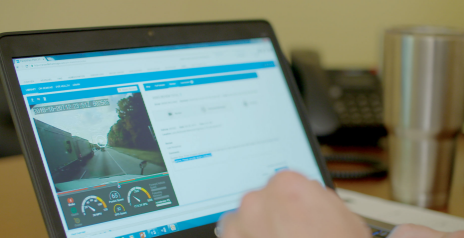 Long-time Customer Aims to Enhance Safety and Reduce Liability Exposure
Contrans, a TFI International company, has begun installing the Trimble® Video Intelligence™ solution in a majority of its fleet. Based in Ontario, Canada, Contrans operates nearly 3,000 tractors and is one of North America's most diversified freight transportation providers with a broad service portfolio that consists of solutions for the van, flatbed, waste, tank, dump and logistics sectors.
The Video Intelligence solution is designed specifically for the commercial transportation industry, with forward, side and rear-facing cameras to provide fleets with a 360-degree view of their vehicles. Video Intelligence was the first video system of its kind to trigger video from company-controlled settings from a truck's Onboard Event Recording® (OER) data, augmenting traditional driver and truck analytics.
A user of Trimble solutions for more than 20 years, Contrans selected Video Intelligence to increase drivers' visibility around the vehicle, gain access to advanced analytics and enhance driver coaching efforts.
"By adding Trimble's Video Intelligence, we now have the data and insights to help coach drivers and promote safety, which is key to the success of the Contrans group of companies," said Darren Levine, vice president, Information Technology for Contrans. "Video also measurably reduces claims, expedites claim processing and lowers costs in the event of an accident."
"We look forward to extending our collaboration with Contrans," said Jim Angel, vice president of Trimble's Video Intelligence Solutions. "With a video solution in place, Contrans joins other customers in harnessing Trimble's capabilities to make the roads better for everyone that uses them."
Category: Connected Fleet News, Featured, Fleet Diagnostics & Software, Fleet Tracking, General Update, News