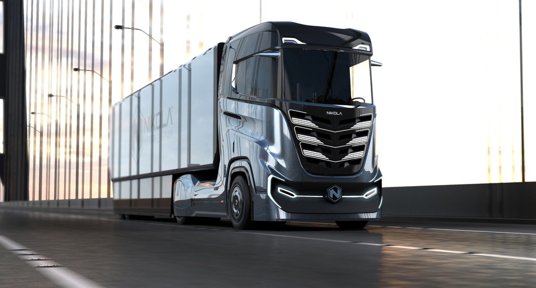 Major announcements in zero-emission commercial trucks
Nikola designs and manufactures hydrogen-electric vehicles, electric vehicle drivetrains, vehicle components, energy storage systems, and hydrogen stations. The company is bringing the nation's most advanced semi-trucks to market with more than 13,000 trucks on preorder.
The hydrogen-electric Nikola TRE (means three in Norwegian) has 500 to 1,000 HP, 6×4 or 6×2 configurations and a range of 500 to 1,200 kilometers depending on options. The TRE will fit within the current size and length restrictions for Europe.
Nikola Motor Company will unveil its highly anticipated zero-emission product lineup and make significant industry announcements tomorrow, April 16, at Nikola World 2019. The event will be attended live by more than 4,000 members of the media, industry partners, customers and government leaders at WestWorld in Scottsdale. The event on Tuesday evening and Wednesday morning is dedicated to industry-related participants. On Wednesday afternoon, the general public is invited to attend. Registration is required at www.nikolamotor.com
Category: AUTONOMOUS, Featured, General Update, Green, News