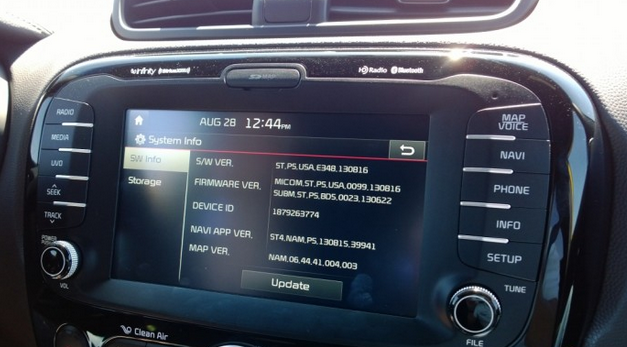 Silicon Image (NASDAQ: SIMG), a leading provider of HD connectivity solutions, is showing the latest in connected car infotainment via its 60GHz WirelessHD® technology, selected as a conceptual IVI demonstrator by Kia Motors during the 2014 International CES.
Kia's concept vehicle infotainment system will show how drivers and rear seat passengers can easily access features such as navigation and streaming media from WirelessHD-enabled mobile devices incorporating Silicon Image's UltraGig™ 6400 chipset.
"Kia selected WirelessHD for this particular concept technology demonstrator because of its strength in the wireless connectivity arena," said Henry Bzeih, Head of Telematics & Infotainment at Kia Motors. "WirelessHD solutions are one of the enablers for the connected car by allowing drivers and passengers to benefit from an enhanced Infotainment experience connecting their device and the in-dash or rear-seat display."
Key features of Silicon Image's WirelessHD Technology
World's first 60GHz connectivity standard supporting Full HD video up to 1080p60 with near-zero latency (less than 5ms) for real-time content sharing between devices
Highly integrated solution with embedded smart antennas that ensure robust connections free from 2.4GHz and 5GHz Wi-Fi interference
Low power solutions optimized for mobile devices to enable real-time, dual-screen interactivity with external displays
"Silicon Image's WirelessHD solution enhances the in-vehicle infotainment experience by connecting mobile devices to automotive displays with cable-like quality and reliability," said Tim Vehling, senior vice president and general manager, connectivity products group at Silicon Image."
More information at: http://www.siliconimage.com/.
Category: Accessories, General Update, Tech Talk