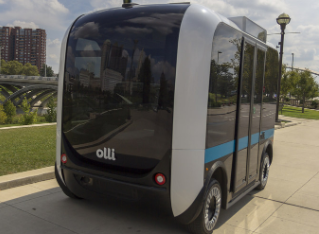 Self-Driving Shuttle Known as Olli To Serve Students, Faculty and Public
Local Motors by LM Industries Group the world's first digital OEM known for 3D-printed mobility solutions, presented its self-driving shuttle known as Olli to Sacramento State. The arrival of the autonomous shuttle on campus is the result of Sacramento State competing in and winning an Olli fleet challenge for presenting a best-use scenario for the eight-person vehicle
"This deployment is a big moment for Sacramento State and for Local Motors, and follows months and months of co-creation, design and development," Jay Rogers, Local Motors co-founder and CEO said ahead of the official launch. "The Sacramento State campus, with its passion for sustainability and early adoption of technology, is an ideal, real-world proving ground for all that Olli has to offer. And, this deployment puts Olli at the doorstep of a generation of young adults who will play a significant role in moving autonomous technology forward."
Sacramento State will have use of two Olli shuttles, which are the first co-created, self-driving, electric vehicles designed to transport small groups at low speeds. The shuttle is equipped with cognitive response technology, utilizes sensors and cameras throughout the vehicle, and relies on a first-of-its-kind obstacle avoidance system.
Sacramento State's entry, developed in cooperation with the Sacramento Area Council of Governments (SACOG), was selected by a panel of judges as the most viable among the field of entries due in part to its proposed use and the population of riders it will serve.
"Sacramento State is an is an institutional leader in our region, which is why it is so fitting that Olli will be on their campus teaching riders about autonomous mobility in a truly interactive way," Matsui said. "First-hand experience is the best teacher, and I'm eager to see what Olli shows Sacramento State, its riders and the region about the future of self-driving vehicles."
Local Motors officials, in cooperation with Sacramento State, have mapped a route that the Olli shuttles will use for the next few months.
"We encourage our students to think about what is possible, to think how they could impact the future, and to be innovative. Olli's arrival on campus illustrates those philosophies in a very tangible way," Robert S. Nelsen, Sacramento State president, said. "The possibilities that come with introducing this type of technology to students is limitless, and I know I am excited to see how Olli may inspire our talented students and faculty."
While the Olli shuttles will be on campus at Sacramento State, they will be available for use by members of the public who want to give the autonomous vehicle a try. Mayor Darrell Steinberg, a staunch supporter of autonomous mobility, said he believes Olli is a gateway vehicle that has the ability to foster a new understanding among its users and its onlookers about the future of transportation.
Category: AUTONOMOUS, Featured, General Update, Green, News