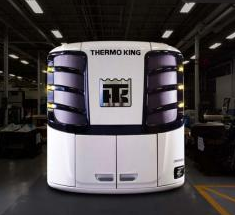 Thermo King, a manufacturer of transport temperature control systems, has introduced  its line of Precedent™ S-Series models for refrigerated trailer fleet operators and owner operators who want to remain compliant with air quality standards without sacrificing performance or efficiency.
The Precedent™ S-Series delivers, according to the company, double-digit fuel savings, best-in-class performance and lower life cycle costs while providing regulatory compliance.
Within this platform is the Precedent S-600 unit, which was created to meet the variety of refrigeration demands of the trucking industry with its strong pull-down and two-speed evaporator operation for exceptional airflow while hauling perishable goods.
In addition to fuel savings and high performance, this premium, greater-than-25 horsepower, single-temperature unit is:
The only unit in the industry compliant with California Air Resources Board (CARB) Ultra-Low-Emission Transport Refrigeration Unit In-Use Performance Standards (ULETRU).
The only greater-than-25 horsepower solution in the industry to meet Tier IV final emissions certification by the U.S. Environmental Protection Agency (EPA).
The only evergreen CARB compliant unit requiring no additional diesel particulate filters (DPF) or engine emissions system (EES).
More at: www.thermoking.com.
Category: Cab, Trailer & Body, General Update