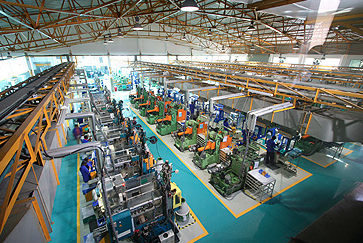 According to Freudenberg-NOK Sealing Technologies, its new portfolio of sophisticated wheel seals will help heavy duty vehicle manufacturers meet renewed demands for better fuel economy, longer service life and increased wheel durability.
The company noted that Freudenberg-NOK's MileMaker™ wheel seals are made of "an advanced, proprietary material that reduces friction and lowers torque 50 percent…resulting in an average fuel savings of $1,000 per commercial truck and trailer combination over the life of the seals."
Noted Torsten Maschke, president, Automotive Sales and Marketing, Freudenberg Sealing Technologies, "In the case of the MileMaker program, our material and engineering expertise drove development of a proprietary design that outperformed our competitors' seals by thousands of hours in hot durability, hot temperature and contaminant exclusion testing."
Freudenberg-NOK is using an advanced elastomer to produce the MileMaker seals. The material withstands higher operating temperatures of up to 350 degrees F and is compatible with mineral and synthetic oils, and grease lubricants.
In addition, the seals have an integrated lathed, ground and polished wear sleeve running surface that reduces friction, lowers torque and promotes a cooler running surface for the main lip seal.
More at: www.fnst.com.
Category: General Update, Shop Stuff, Wheels & Tires