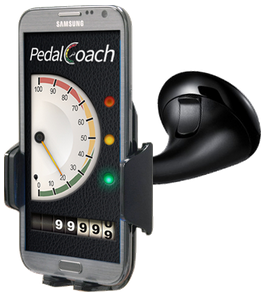 For fleets keen to save fuel, reduce accidents and improve driver retention, PedalCoach from LinkeDrive may be the ticket.
PedalCoach is designed to improve the bottom line for fleets by measuring, coaching, and rewarding safe and efficient driving.
The product is an in-cab application, always visible to the driver, that applies a unique patent-pending method of establishing the right fuel target, which in turn dynamically adapts to the road, load and driver. PedalCoach™ is constantly calculating the optimal fuel rate during every trip, giving the driver a moving mpg target that doesn't penalize him or her for a heavy load or an old truck.
That's the key, because by some estimates, 30% of fuel economy is under the direct control of the operator.
The rationale is compelling. Fuel costs routinely exceed 40% of operating expense for commercial vehicle fleets.  However, according to the company's analysis, it is "clear the most proficient drivers outperform the least capable drivers when it comes to MPG performance."   Yet the problem of high turnover makes the retention of top drivers difficult and makes the payback from training short lived.
More info at: www.linkedrive.com/pedalcoach/
Category: Accessories, Driver Stuff, Fuel & Oil, General Update, Green