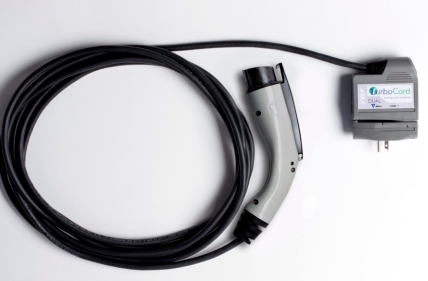 AeroVironment, Inc. (NASDAQ:AVAV), a leader in electric vehicle charging, has unveiled TurboCord™ – a hand-size, compact, UL-listed, dual mode 240-volt/16-amperage and 120-volt portable charging cord set for EV charging.
TurboCord is also available in a 240-volt only version (MSRP $599).
"TurboCord is very compact, light, powerful and delivers unmatched charging versatility. It will empower drivers to make the transition easily from gas-powered cars to electric vehicles because it simplifies the charging process and can reduce costs significantly," said Wahid Nawabi, senior vice president and general manager of AeroVironment's Efficient Energy Systems business segment.
TurboCord requires no charger installation – you just plug it in — and it is designed with key safety features, such as waterproofing for indoor and outdoor charging, all-environment operation and built-in thermal sensors for protection against faulty wiring or inadequate power.
What's more, it's portable. Users can take it with them and charge more rapidly away from home.
TurboCord weighs less than five pounds and plugs directly into the electrical outlet. It has an easy-to-see LED indicator and no buttons. Its miniaturized electronics and safety features are housed in a compact package that also incorporates the plug. It is outdoor-rated, watertight with the highest waterproof NEMA 6P rating and durability tested.
According to Nawabi, TurboCord is a winner for everyone – the EV owner, host businesses and car dealers. "TurboCord will deliver that extra convenience many people are looking for before deciding to drive home from a dealer in an EV, especially when automakers include it in the trunks of new cars," he said.
More information at www.avinc.com and www.evsolutions.com.
Category: Accessories, General Update, Green