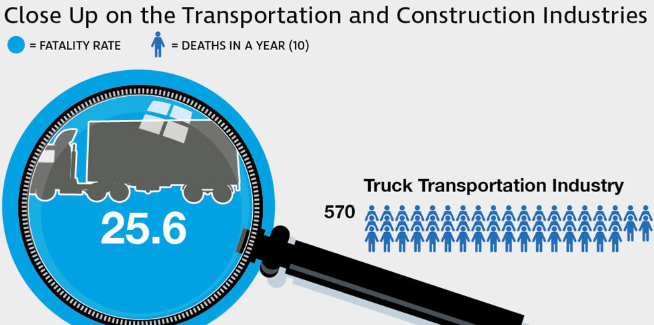 When it comes to tough or dangerous jobs, truck drivers top the list as one of the most deadly occupations
In a recent analysis of Bureau of Labor Statistics data on work-related fatalities, fleet management company Teletrac Navman published an infographic on the most dangerous jobs.
Teletrac Navman compared the fatality rate – the number of fatal injuries divided by the number of hours worked by all employees during the calendar year, multiplied by 200MM – of some of the most dangerous jobs in the United States, and found that truck drivers are underpaid versus similarly risky occupations.
Truck driving has a fatality rate of 24.7 and an average salary of $39,790. Structural iron and steel workers, who have a slightly higher fatality rate (25.1), make an average salary of $56,940, and farmers, ranchers and other agricultural managers, who have a lower rate of 23.1, earn an average salary of $80,321.
With pay and safety continuing to be ongoing industry challenges, this may not come as a surprise. But while the data is bleak, Teletrac Navman's 2018 Telematics Benchmark report found some hopeful signs the situation may improve: 58% of fleet managers said they planned to increase driver pay, while 36% planned to offer better benefits, as fleets look to improve wages and create a safer environment for professional drivers.
Category: Driver Stuff, Featured, General Update, News, Safety