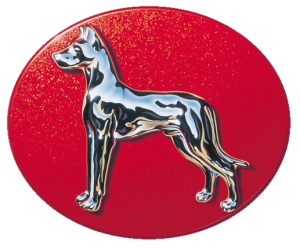 The Everest TL from Great Dane is the industry's lightest weight reefer and offers exceptional durability and unmatched protection against impact damage and moisture intrusion, while its unparalleled foaming process yields a flat, smooth appearance. 
Select highlights follow:
Front End Construction
The Everest TL reefer front end is a combination of traditional strength and product innovation aimed at reducing maintenance and weight. The fully-welded aluminum refrigeration unit bracing is supported by four of the front wall's six extruded aluminum Z-post uprights that form the rigid front end. The use of aluminum in place of a steel frame eliminates the use of dissimilar metals in the front wall and the chance of galvanic corrosion.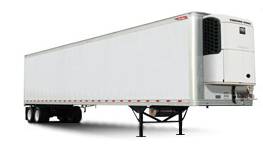 Front Wall Protection
The front wall design incorporates important protection features aimed at reducing maintenance costs and maintaining appearance.
Air and electrical connections are mounted to the front wall on a stainless steel plate for easy access and reduced maintenance.
A heavy-duty, extruded aluminum impact plate extends full width across the lower front and wraps around the corners to the sides to protect from fifth-wheel impact damage. This aluminum extrusion will not rust, never needs paint and protects this vulnerable area.
Undercarriage
The Great Dane Model 60 Landing Gear uses a constant mesh gear box which keeps gears engaged for consistently smooth shifting.
The landing gear construction features a floating nut design which protects the elevating screw from damage caused by dock walk.
The Everest TL comes standard with an air-ride suspension for a smoother ride and increased cargo protection.
Roof Construction
The Everest TL's aluminum roof coil is manufactured using a patented corrugation process, which not only adds stiffness to the structure but also controls the thermal expansion of the sheet, minimizing the potential for delamination from the insulation.
Exterior Rear Features
Rear Frame Construction
Everest TL rear frames are constructed of satin-finish stainless steel for maximum strength and minimum maintenance. Resistance to corrosion and the overall enhanced appearance of stainless steel increases resale value.
A stainless steel post cap reinforces the rear frame post and sill, protecting the outer impact area. The last two crossmembers at the rear of the trailer are replaced with a solid 8″ shear panel structure for added strength and absorption of stresses from dock impact.
Rear Impact Guard
The rear impact guard is designed and tested to conform with all
U.S. and Canadian regulations and is available in stainless steel as well as carbon steel, and may be welded in place or bolted on for ease of repair.
Door Construction
The Everest TL's all-aluminum doors are completely sealed, inside and out, to eliminate moisture intrusion into the insulation. A unique gasket design provides a triple seal using a dual-lip outer seal with a separate inner compression seal, locking in refrigerated air.
The vent door access has a finished aluminum cover. A double seal forms a perfect fit and prevents costly leaks.
Hinges
Great Dane's heavy-duty, extruded aluminum hinge design allows the rear doors to open fully to the sides and to "break away" in the event of severe impact. Four hinges per door are standard.
Hinges are fastened to the rear doors by three stainless steel bolts, making hinge replacement effortless, and the use of phenolic bushings ensures long-term smooth operation. Anti-theft fastenersare strategically placed for cargo protection.
Access Systems
The rear access system for swing door applications includes an intermediate channel with a perforated top surface, where adequate clearance allows, and a roadside-mounted grab handle.
Roll-up rear door access systems include a fixed step on the curbside with a recessed grab handle in the door frame.
Electrical
The Everest TL's exterior lighting package comes standard with Grote's MicroNova® DOT LED lamps, designed to improve visibility and service life of the lights. The system also features dual intensity clearance lights, with an available option for five clearance lights with outer turn signal.
The industry's best wiring harness, the Long-Life Light System is a maintenance-free, fully modular system backed by a 10-year warranty. This sealed harness prevents moisture intrusion, is extremely durable, and combines the flexibility of a custom wiring system with the reliability and simplicity of a sealed harness.
Interior Features
Construction
Within a temperature regulated press, a computer-controlled urethane injection process insulates modular roof and side wall components, producing flat linings and skin with void-free foam for maximum thermal efficiency.
Interior sidewalls are lined with PunctureGuard, Great Dane's exclusive glass-reinforced, thermoplastic lining designed to be incredibly strong, yet lightweight. For maximum interior protection combined with optimal thermal e
Floor Strength
Great Dane's floor system combines the industry's highest floor rating with the strongest support features. The aluminum duct floor is robotically welded full length to seal out all moisture.
The floor's insulation is further protected from external moisture by a one-piece thermoplastic sub pan that is extremely impact resistant. Corrosion protection is enhanced by employing Magnicoated fasteners to install the floor and composite floor sills.
Lining Protection
Sidewall protection from fork lift and cargo damage is provided by a 10″ high extruded aluminum integral scuffband that extends full length to the front wall and features a tapered design with heavy-duty .188″ material at the bottom and graduating to .100″ at the top. A heavy-duty option including .188″ thickness full height is available. Additional heights are available for added sidewall protection.
Interior Lighting
Great Dane offers the latest advancements in all LED interior lighting for better performance, greater illumination and the ease of replacement. This includes dome and spot lamps. LEDs improve the visibility in refrigerated trailers. Installation options ceiling and side wall placement.
All interior lamps have return ground wiring, which is routed through a PVC conduit for reduced maintenance and ease of repair.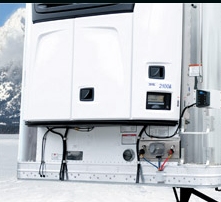 More info at: Great Dane Trailers
Category: Cab, Trailer & Body New