In October, the Cass Truckload Linehaul Index set a new all-time high, with truckload linehaul rates registering 0.9% higher than in October of last year and 0.7% higher than in September.
Rates rose for the third month in a row (as is the usual pattern for this time of year).
Supply and demand in the truckload marketplace remain relatively balanced for now. Capacity continues to shrink slowly, while truck tonnage has been increasing.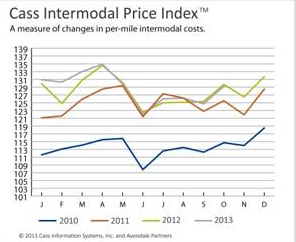 At the same time, the cost to move goods via intermodal was down 0.4% year over year in October, after coming in a little bit higher than 2012 levels in September and August. From September, costs were up 3.7%.
According to Avondale Partners' most recent analysis on intermodal pricing, the organization noted : "We believe that despite slower growth in the domestic container fleet, improved rail service, and increased share gains at the expense of long-haul TL, that the pricing dynamic in intermodal remains very competitive. We expect linehaul rates to remain relatively flat in the near term, but do expect fluctuations in diesel to cause 'all-in' pricing to continue to be somewhat volatile."
Category: General Update