Washington State is going greener, with a state agency purchasing a plug-in hybrid work truck in a major step in its continuing efforts to reduce the region's carbon footprint.
Until now, most electric vehicles have been smaller, passenger cars. Electric trucks have been slower to be developed and come to market, meaning agencies with significant construction or maintenance work – and equipment – weren't able to easily switch out to the greener technology. Hybrid trucks like this are an important step for our managers and crews.
The new Ford XL F-150 light-duty truck will be used in all areas around the state including maintenance, construction and project engineering. We expect to get 21 miles per gallon with the new truck – a 50 percent increase in mpg compared to a traditional work truck – with no additional maintenance requirements. And because it's a hybrid, the truck can be dispatched anywhere in the state with no range concerns, and then be plugged in to charge at its work location. The battery pack assists acceleration for the first 90 miles of travel and then switches to battery regeneration for the rest of the route.
The vehicle is enhanced by XL, which builds the plug-in hybrid system that is added to a standard Ford F-150 light duty truck. It includes a 15-kwh liquid-cooled lithium ion battery pack housed in the truck bed as well as two cooling radiators and electric traction motor added to the rear driveshaft. The truck has a 3.3-liter V-6 and six-speed transmission with auto stop-start and regenerative braking. It can be charged using a standard J1772 charging port for Level 1 or Level 2 charging.
The battery pack does take up some of the truck bed, but a slide out drawer for tools has been added in front of the battery to make the best use of space. A canopy also will be added, providing storage for items that can sit on top of the battery cover. The battery pack weighs 700 pounds, allowing the truck to still carry 1,200 pounds of payload.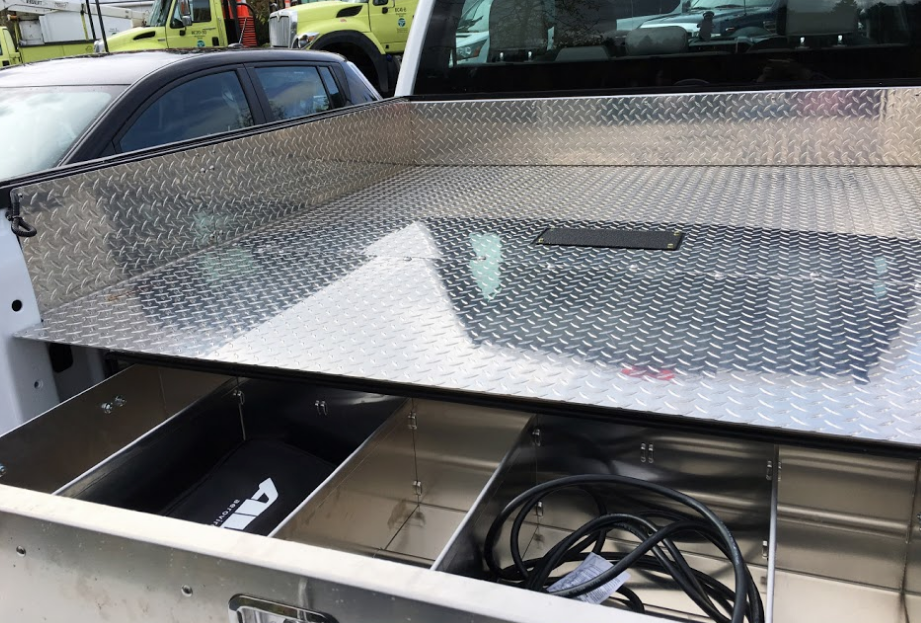 A standard light-duty truck costs $29,912; the additional cost for the hybrid features is $23,000. Based on the 50 percent improvement in fuel efficiency, we estimate the payback period for the hybrid option is eight years. The typical agency lifespan for this type of truck is 12 years.
This is another step in our continuing efforts to replace the agency's conventional vehicles with electric, plug-in hybrids or hybrid vehicles to meet both agency and state goals of a green, environmentally friendly fleet. Switching to these types of vehicle helps reduce our carbon footprint and emissions while still allowing our crews to carry out vital work.
In addition to the hybrid truck our agency has:
45 Plug-in hybrid electric vehicles (Chevrolet Volts) (PHEVs)
20 all electric vehicles (Chevrolet Bolts) (EVs)
100 hybrids
Light-duty trucks like this make up a significant percentage of our gas-burning fleet, so we're excited to test this new technology and add more of these to our fleet if they function as expected.
Category: General Update, Green, News