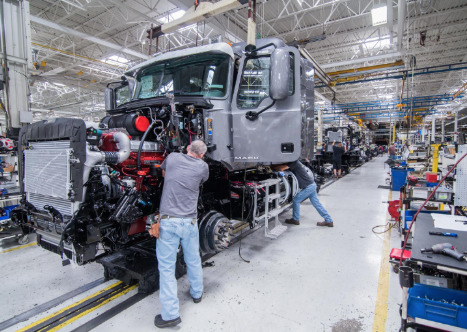 Class 8 backlog is likely to continue to decline until 2024
On continued strong build rates and seasonally weak order volumes, July's NA Class 8 backlog fell by 11,632 units to 163,576 units. At 5.9 months, the nominal backlog-to-build ratio remains comfortably healthy into year end, according to ACT Research's latest State of the Industry: NA Classes 5-8 report.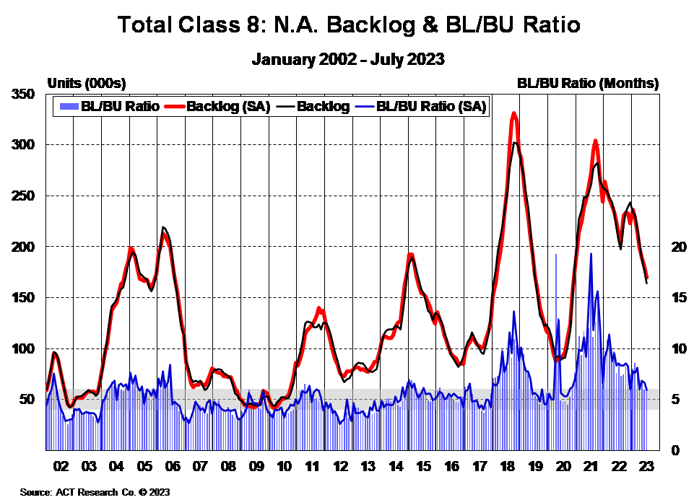 According to Kenny Vieth, ACT's President and Senior Analyst, "With over 90% of the current backlog scheduled for build in 2023, Class 8 backlog is likely to continue to decline until 2024 orderboards are opened." On medium duty, he continued, "The Classes 5-7 backlog slipped 1% to 116,890 units in July. The BL/BU ratio fell to a still elevated 4.6 months on the smaller backlog and higher daily build rate."
Regarding July's Class 8 build rate, he noted, "Build slightly exceeded OEM build plans, but remainder of the year guidance was trimmed slightly. Notably, Class 8 build and retail sales were virtually identical last month, keeping inventories at relatively lean levels. Tight inventories are a reminder that pent-up demand continues to be worked off in 2024."
Class 8 orders rose 41% y/y to 15,573 units. On a seasonally adjusted basis, orders were flat sequentially at 20,100 units. Classes 5-7 orders rose 22% y/y against 2022's easiest order comp to 16,736 units.
Vieth concluded. "July is the worst month of the year for both Classes 5-7 and Class 8 orders. While vacations are a likely factor, the bigger ones are systemic. As is often the case, the current year backlog is full. At the same time, the OEMs have typically not yet opened orderboards for next year. Hard to book an order in those circumstances. With the current backlog front-end loaded, orders will receive heightened attention as 2024 orderboards are opened in the next few months."
Category: Breaks, Suspensions & Chassis, Cab, Trailer & Body, Equipment, Featured, General Update, News, Products, Vehicles