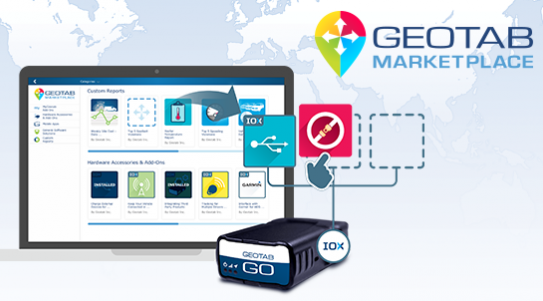 Encore and Workforce Manager help to maximize mobile workforces' potential
Geotab, a global leader in IoT and connected transportation, today announced the availability of two new mobile workforce management solutions by Actsoft, Inc. on the Geotab Marketplace. Helping business to streamline processes and gain greater visibility into drivers and assets, Encore and Workforce Manager by Actsoft, are the latest solutions to join the Marketplace's growing portfolio of mobile apps, software Add-Ins and hardware Add-Ons that enable Geotab customers to better manage their fleets.
Encore, Actsoft's flagship product, enables companies to maximize efficiency in daily operations, providing businesses with the dynamic tools necessary to effectively oversee and engage remote employees and assets when in the field. Offering a wide range of functionality, such as mobile timekeeping, wireless forms and GPS-based tracking, Encore helps to streamline current processes, allowing fleet managers to benefit from more accurate workforce data and minimize discrepancies.
Workforce Manager is a nearly identical software, but is exclusive to AT&T customers.
"We're very excited to embark on this new journey in collaboration with Geotab," said Kevin Thigpen, Chief Operating Officer at Actsoft. "The Geotab Marketplace, with its vast hub of telematics innovations, is the perfect home for Actsoft and its increasing portfolio of GPS-enabled workforce management solutions."
As an industry leader in mobile resource management, Actsoft has been providing solutions to help businesses achieve their maximum potential for over 20 years. It's award-winning suite of software tools for improved worker and asset management, is utilized by thousands of customers around the globe to power data-driven decision making. Joining over 150 partner solutions on the Geotab Marketplace, Actsoft's Encore and Workforce Manager solutions are available to the more than 40,000 Geotab customers who are leveraging telematics data to better manage their fleets.
"The Geotab Marketplace is designed to help businesses customize their telematics solution and utilize vehicle data to increase the overall efficiency of their fleets, " added Joey Marlow, Executive Vice President, U.S. Operations at Geotab. "The perfect complement to our Marketplace, Actsoft and its solutions provide customers with an all-encompassing workforce management solution that further strengthens any fleet-based operation, helping businesses become more productive today and into the future."
Category: Featured, Fleet Tracking, General Update, News