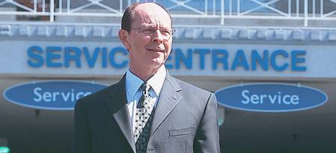 The American International Automobile Dealers Association (AIADA) announced Newport Beach auto dealer Dave Conant as the recipient of its 2019 David F. Mungenast Sr. Lifetime Achievement Award during its 49th Annual Meeting and Luncheon in San Francisco.
The David F. Mungenast Sr. Lifetime Achievement Award is presented by AIADA's Board of Directors annually to an industry leader who possesses a similar community spirit and devotion to the international nameplate auto industry as its namesake.
"Dave is a perfect fit for our Mungenast award," said AIADA President Cody Lusk. "His commitment to our industry and dedication to his community is legendary. We are all the beneficiaries of his enthusiasm, generosity, and endless energy."
The Conant Auto Retail Group, headquartered in Newport Beach, CA, encompasses 11 automotive franchise dealerships across Southern California and Florida representing Honda, Hyundai, Ford, Infiniti, Lincoln, Toyota, and Volkswagen. It may be best known for the Norm Reeves Honda Superstore in the Cerritos Auto Square, which has been recognized 25 times as the number one selling Honda dealership in the USA and in 2017 was the first Honda store in history to achieve ten thousand new vehicle sales in one year.
In addition to running a successful group of dealerships, Conant is known for his community involvement. Through employee-funded charitable contributions as well as the Conant Family Foundation, Conant and his associates have given millions of dollars to local charities supporting education, health and wellness. Recipients include Make-a-Wish, American Red Cross, American Cancer Society, and recent hurricane, earthquake, and fire disaster-relief efforts in California and elsewhere.
Conant and his wife, Cassie, have also given of their time, participating in a mentoring program at Newport Harbor High School, serving on a board that developed the Charitable Foundation for Mariner's Elementary School, and supporting the Foundations at both Ensign Middle School and Newport Harbor High School.

Category: General Update, News, People