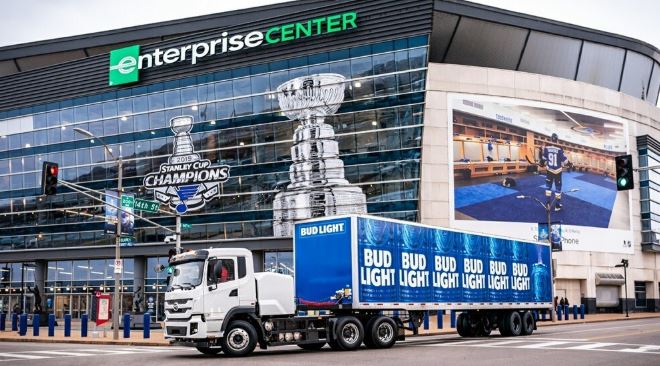 Brewer partners with Nikola Motor Company and BYD to make delivery from brewery to retailer utilizing innovative zero-emission fleet technology
ST LOUIS, MO (November 21, 2019) – Today, Anheuser-Busch, in partnership with Nikola Motor Company (Nikola) and BYD Motors LLC, completed their first ever 'Zero-Emission Beer Delivery' in the company's hometown of St. Louis – utilizing both companies' innovative fleet technology to deliver beer from the local Anheuser-Busch brewery to the Enterprise Center using only zero-emission trucks.
This morning, a Nikola hydrogen-electric truck picked up the load of beer, including flagship beer brand Bud Light, and delivered it to Anheuser-Busch local wholesaler partner, Lohr Distributors – marking the first commercial delivery onboard a Nikola hydrogen-electric vehicle. Lohr Distributors then delivered the beer to the Enterprise Center, home of the St. Louis Blues, on a BYD electric truck – a milestone delivery for the brewer as the beer reached its destination with zero-emissions from transportation.
"At Anheuser-Busch, we are continuously searching for innovative ways to improve sustainability across our entire value chain, progressing towards reaching our sustainability goals and driving our industry forward," said Ingrid De Ryck, Vice President of Procurement and Sustainability at Anheuser-Busch. "No single company can build a more sustainable future alone but this zero-emission delivery has shown what is possible when we bring together the various strengths and assets within our supplier network to work towards a shared objective of a better world."
The delivery builds on Anheuser-Busch's ongoing commitment to sustainability and existing partnerships with both Nikola and BYD. Through their 2025 Sustainability Goals, Anheuser-Busch has committed to reducing carbon emissions across their value chain by 25% by 2025.
Category: Electric Vehicles, Featured, Fuel & Oil, General Update, Green, News