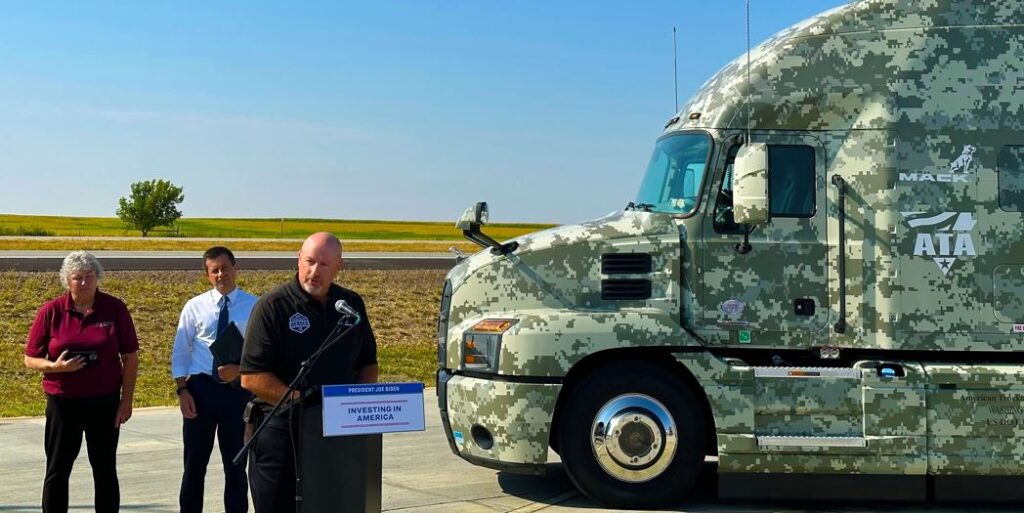 The new truck parking spaces, funded by the Bipartisan Infrastructure Law, will be built along Interstate 90 in Salem
The American Trucking Associations President and CEO Chris Spear, ATA Chairman Dan Van Alstine, and U.S. Transportation Secretary Pete Buttigieg visited South Dakota, where they celebrated a new federal investment to expand truck parking capacity.  
"There are countless ways to thank America's hardworking truck drivers during National Truck Driver Appreciation Week, and today we are doing so by addressing a serious issue that consistently ranks as one of their highest concerns," Spear said. "The funding being announced today will help to alleviate a shortage of truck driving spaces that too often puts drivers in a no-win situation. These projects being funded by the IIJA are an important step in the right direction, and we look forward to continuing to work with USDOT Secretary Buttigieg and FMCSA Administrator Robin Hutcheson to solve this challenge together." 
"We have stepped up our work on the truck parking coalition and our efforts to encourage states and other decision makers to make better use of infrastructure dollars to expand parking," said Secretary Pete Buttigieg, noting a USDOT partnership with stakeholders. "Know that you will continue to have a partner in the U.S. Department of Transportation. And I'm really glad that we're able to be here to celebrate projects like this one, expanding truck parking nationwide."  
"The shortage of truck parking capacity is, first and foremost, a critical safety issue for drivers, the motoring public, and law enforcement," said ATA Chairman Dan Van Alstine, president and COO of Ruan Transportation Management Systems.  "The time that is wasted, and frustration and anxiety created, searching for safe parking, also leads to supply chain disruptions, reduces drivers' compensation, and adds unnecessary congestion and emissions.  Secretary Buttigieg is the first USDOT Secretary to award grants for projects that add parking spots.  We appreciate his focus on this issue, and we will continue to support bipartisan efforts in Congress to secure additional dedicated funding for truck parking."   
The new truck parking spaces, funded by the Bipartisan Infrastructure Law, will be built along Interstate 90 in Salem and will help to meet the critical need to improve truck driver safety and increase the efficiency of the nation's supply chain. 
"The severe lack of truck parking has an enormous impact on drivers nationwide," said America's Road Team Captain Dean Kay, a professional driver for Ruan Transportation. "It touches almost every aspect of our profession, from quality of life to compensation, but more than that, the lack of truck parking is fundamentally a safety issue. We appreciate Secretary Buttigieg's commitment to improving the lives of professional drivers by making truck parking a priority."
There is currently only one parking spot for every 11 truck drivers on the road today. Consequently:  
A U.S. Department of Transportation report found 98% of drivers regularly experience problems finding safe parking.
A staggering 70% of drivers have been forced to violate federal hours-of-service rules because of this common scenario.
Truck drivers spend 56 minutes of available drive time per day looking for parking early rather than risking not being able to find parking down the road.
This wasted time costs the average driver about $5,500 in direct lost compensation—a 12% cut in annual pay.   
The ATA strongly advocated in favor of the Bipartisan Infrastructure Law, which has already provided funding for hundreds of new truck parking spaces since its enactment in 2021. USDOT has provided guidance for states on funding eligibility requirements for truck parking projects under the law. 
To build on this progress, the ATA also endorsed the Truck Parking Safety Improvement Act, introduced by Senators Cynthia Lummis (R-Wyoming) and Mark Kelly (D-Arizona), as well as Representatives Mike Bost (R-Illinois) and Angie Craig (D-Minnesota), which would authorize $755 million in competitive grant funding to expand commercial truck parking capacity across the United States. 
Category: Driver Stuff, Featured, Fleet Tracking, General Update, News, Safety, Transit News