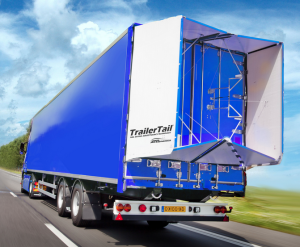 ATDynamics, the leading global supplier of semi-trailer rear-drag aerodynamics technology has announced that a version of the company's patented TrailerTail(R) rear-drag reduction technology has been approved for all new semi-trailers produced in the European Union (EU).
ATDynamics also announced the recent appointment of Devin Koch to the new position of Vice President of International Markets.
Worldwide transportation regulators have paid close attention to the rapid adoption of TrailerTail equipment on high efficiency trucking fleets in the United States. The fuel savings, durability and safety benefits demonstrated by over 12,000 trailers with ATDynamics TrailerTail equipment circulating on U.S. highways provided a case study for international transportation regulatory bodies and trucking associations. A length exemption for non-cargo carrying aerodynamic devices allows freight companies to quickly reduce exposure to volatile fuel prices and diesel fuel emissions.
ATDynamics has been working closely with European regulators, trailer manufacturers and trucking fleets to ensure the compliance of maximum efficiency TrailerTail technology with EU highway regulations. As of January 2013, limited length TrailerTail equipment received regulatory approval stemming from the European Commission Directive 97/27/EC.
"TrailerTail technology has the potential to save the global trucking industry $50 billion in fuel costs over the next decade," said Andrew Smith, CEO and Founder of ATDynamics. "We are thrilled that this regulatory shift in Europe will allow us to immediately offer a 50-centimeter version of our flagship ATDynamics TrailerTail to this nascent market."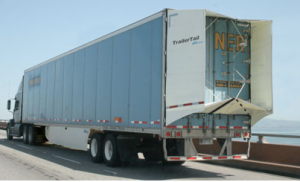 The TrailerTail Eco 50 is a 50-centimeter TrailerTail that was specifically designed to support the regulatory shifts in the EU. The TrailerTail Eco 50 collapses easily against the rear of a semi-trailer when needed and acts as a trailer door buffer in its collapsed state. The TrailerTail Eco 50 has the ability to save over 2% fuel savings at highway speed. A TrailerTail Eco 50 is compatible with all major European trailer brands.
"With the recent regulatory changes, we can deliver a compliant, easy-to-install and operate, TrailerTail to all long haul European trucking fleets who are eager to purchase trailers 2% more efficient than what they were allowed to purchase last year," said Devin Koch, ATDynamics' Vice President of International Markets.
ATDynamics projects that 50,000 trailers with TrailerTails will be operating on U.S. highways by 2014. Over 120 trucking fleets in the United States began to test or implement full fleet adoptions of TrailerTails in the last 18 months.
About ATDynamics, Inc.
ATDynamics is the leading global supplier of semi-trailer rear-drag aerodynamics technology. Its flagship rear-drag reduction technology, TrailerTail, was first released in 2008 and is part of a suite of products engineered to reduce the fuel consumption of the freight transportation industry. Based in Hayward, California, ATDynamics is the recipient of numerous innovation awards and is a founding member of the North American Council for Freight Efficiency. ATDynamics is an affiliate of the U.S. EPA SmartWay Transport Partnership, member of the American Trucking Association's Technology Maintenance Council and is a key partner in the DOE funded Super Truck initiative. For more information visit: ATDynamics.

Category: Cab, Trailer & Body New, General Update