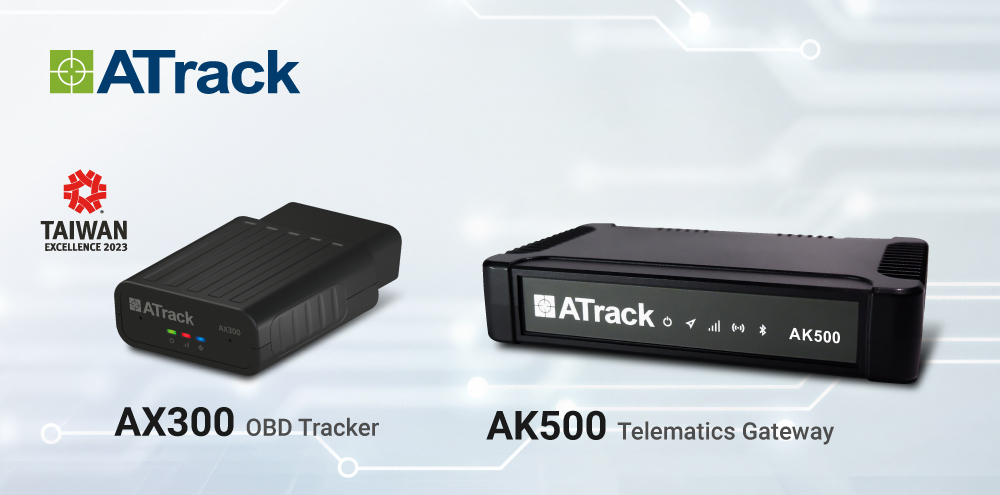 Data analysis can enable early detection of potential problems such as excess fuel consumption or engine temperature, abnormal driving behavior, and other factors
ATrack Technology Inc., vehicle telematics device designer and manufacturer, is expanding its line of vehicle telematics products with its recent launch of two new 4G fleet management products. These include the AX300 OBD tracker and AK500 telematics gateway. These both facilitate logistics operators improving management efficiency and reducing operating costs.
AX300 obtains Dual-CAN engine information for in-depth analysis of vehicle status
The AX300 OBD tracker, which has compact size, OBD interface and supports ISO 15765-4, ISO J1939, and SAE J1708 communication protocols. An RP1226 interface for newer trucks makes it suitable for both commercial vehicle and heavy machinery applications. Differing from typical on-board vehicle trackers that can only read a single CAN bus on the vehicle, the AX300 can read data from two CAN bus systems simultaneously to obtain more detailed key engine data, including mileage, speed, and fuel level. Parameters such as fuel volume, consumption and speed, engine speed, idle time and other data can assist fleet managers in conducting in-depth data analysis which can enable early detection of potential problems such as excess fuel consumption or engine temperature, abnormal driving behavior, and other factors. This allows for performing preventive maintenance and management of driving behavior to help significantly reduce operating costs.
AK500 full feature set for vehicle and driving management
The AK500 Telematics Gateway incorporates an LTE Cat. 4 ultra-high speed wireless mobile network with 2.4GHz and 5GHz WiFi sharing, Bluetooth, engine diagnosis and real time position monitoring among other functions. In addition it has multiple interfaces that can be connected to various sensors such as tire pressure monitors and ID card readers among others for various types of trucks, trailers and other vehicles that have multiple applications. In addition, driving hours can be displayed on Bluetooth-capable mobile devices such as mobile phones or tablets in order to comply with the US Federal Motor Carrier Safety Administration (FMCSA) mandatory requirement that all commercial vehicles be equipped with an Electronic Logging Device (ELD). This standard provides important assistance to the transportation industry for fleet management.
According to a Lucintel market research report, the market for GPS tracking devices in North America was about 718 million US dollars in 2021, and is expected to reach 1.09 billion US dollars by 2027. Zhenwen Zhao, deputy general manager of ATrack Technology, said that due to the fluctuating Covid pandemic situation over the past two years, transportation demand has varied greatly. The transportation industry is actively seeking innovation and digitization, hoping to enhance overall operational efficiency. ATrack accurately determines customer needs, adheres to rigorous product testing and quality control standards, and continues to actively develop new products.
The AX300 OBD tracker and AK500 telematics gateway provide a solution for trucks, heavy machinery and the logistics industry to help customers detect vehicle and machinery location in real time, which can speed up dispatch and avoid theft. They also facilitate understanding asset status through engine diagnosis to allow performing preventive maintenance to avoid interrupted vehicle operation as well as manage driving behavior, thereby improving driving safety, reducing fuel consumption, and reducing operating costs.
In addition, in order to help customers to remotely configure settings and firmware of numerous devices dispersed over multiple locations, ATrack provides their ADM (ATrack Device Management) platform, which allows administrators to easily manage a large number of devices to reduce management labor and cost.
Category: Accessories, Cab, Trailer & Body, Connected Fleet News, Equipment, Featured, Fleet Diagnostics & Software, Fleet Maintenance, Fleet Tracking, Fuel & Oil, General Update, News, Products, Safety, Shop Stuff, Tech Talk, Tools