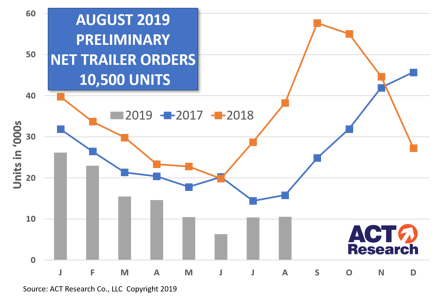 OEMs post 10,500 Units for the Month but Trail Last Year by more than 72%
ACT's preliminary estimate for August 2019 net trailer orders is 10,500 units. Final volume will be available later this month. This preliminary market estimate should be within +/- 3% of the final order tally.
"On the positive side, total orders were up 7% versus July. However, cancellations pulled the net order results down to a 2% sequential gain. Indications were that cancels were highest in the industry's core product categories, dry vans, reefers, and flatbeds, indicating fleets and dealers are still reassessing their true equipment needs for the remainder of this year," said Frank Maly, ACT's Director of CV Transportation Analysis and Research.
Considering normal seasonal patterns along with the widespread opening of 2020 orderboards, a more significant sequential order improvement would have been expected. Maly added, "On a seasonally adjusted basis, net orders actually declined 14% from July. That indicates market pressures of economic uncertainty, lower freight volumes and rates, as well as tariff concerns, are all causing fleets to closely assess their investment plans and very cautiously extend their commitments into next year." Although some order improvement should occur in upcoming months, the pace may well be slower than historic order patterns would predict. Additionally, production rates increased versus July, so when the shrinking orderboard is taken into account, the total industry backlog-to-build horizon remained in mid-January for the second consecutive month.
Category: Featured, General Update, News