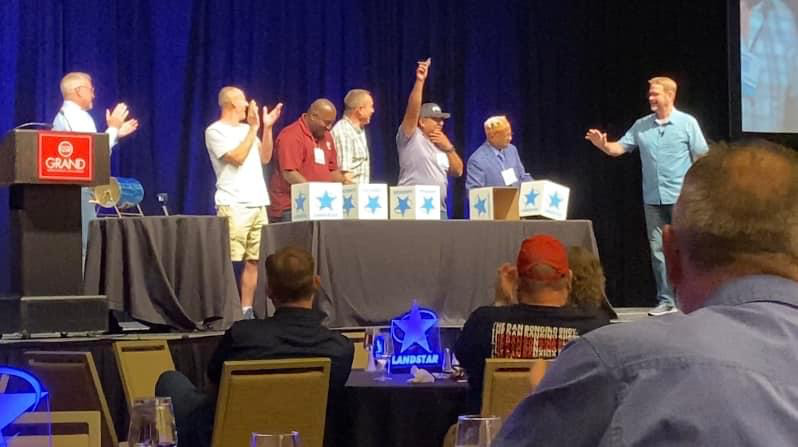 This is the second giveaway of this year and marks the 48th truck giveaway in the company's history
Landstar independent owner-operator Peter Perez of Houston, Texas won a 2024 Freightliner® Cascadia®, including registration and fees, during the annual giveaway held on Aug. 29, 2023, in Reno, Nevada.
"The funny part is that I wasn't going to come to the event. I was stressed. I've had my truck in the shop, and I thought, 'I've got to work,'" Perez said. "And then it started clicking that this is when Landstar gives away a truck every year. With the way that God moves things around, I'm just happy and thankful."
Perez was one of five finalists randomly selected from the contest's pool of eligible business capacity owners (BCOs), the term for independent owner-operators who lease with Landstar. The truck giveaway is the highlight of Landstar's BCO Appreciation Days, a two-day event held annually to thank the owner-operators for their commitment to safety and customer service.
"Landstar's safety-first culture is upheld by its independent owner-operators, and we're thankful for that continual commitment," said Landstar President and CEO Jim Gattoni. "We're proud to acknowledge and celebrate our BCOs for their excellent customer service."
Eligible Landstar owner-operators automatically earn entries to the Deliver to Win Truck Giveaway throughout the year by delivering loads safely during the giveaway period. They can earn more entries for the giveaway by attending safety meetings and participating in Landstar's monthly Safety Thursday Conference Call. After the entry period closes, all entries are pooled and a computerized random number generator selects finalists. Those finalists must be present at the giveaway to win.
Landstar purchases and gives away a brand-new truck twice a year to eligible leased owner-operators.
Category: Driver Stuff, Equipment, Featured, General Update, Management, News, People, Vehicles