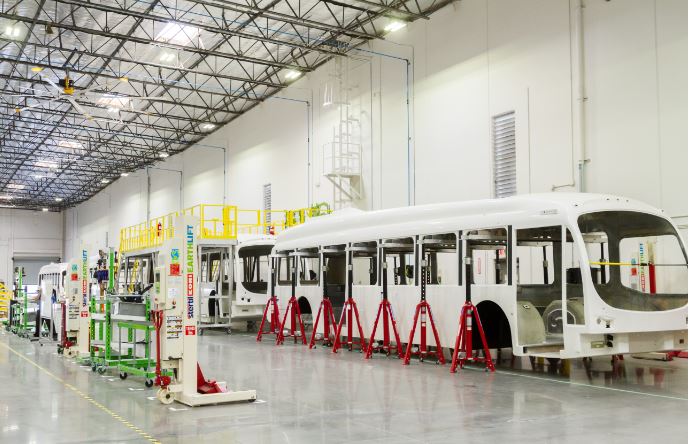 A study by the Los Angeles County Economic Development Corp. says the electric vehicle industry has created nearly 120,000 direct jobs in Southern California
In the 1990s, Southern California was lamenting the demise of its once thriving auto industry. But the rise of electric transportation in recent years has created a new boom, according to a report- Opens in new window recently issued by the Los Angeles County Economic Development Corporation- Opens in new window.

And with that boom comes jobs, according to the report, titled "Economic and Workforce Impact Analysis of the Electric Mobility Revolution in Southern California," formally released this week at Veloz- Opens in new window, an electric vehicle forum in Sacramento.

The EV industry, the study concludes- Opens in new window, created 275,600 direct jobs in the state. More than 40% of those — or 119,200 jobs — are in the Southern California counties of Los Angeles, Orange, Riverside, San Bernardino and Ventura. The study focused on three essential industries: electric passenger vehicles; electric trucks, trams and buses; and charging networks.

"There's no other ecosystem like this in the U.S.," said Judy Kruger, senior director of Advanced Transportation at the LAEDC, referring to the geographically concentrated growth of the EV industry, "and we need to protect, support and build good policy to ensure this ecosystem thrives and continues to create great jobs."
Students learn how to service electric cars and heavy-duty electric vehicles in Long Beach City College's Advanced Transportation Technology Program.
The EV industry, the study concludes, has provided $9.6 billion in labor income in the state across various sectors, with wages averaging about $91,000, well above the average annual wage of $68,500 across all industries.

"Clean energy investments, including electrifying transportation, mean thousands of stable, good-paying jobs across the value chain — from skilled and craft to high-tech and innovation positions — for Southern Californians," said Michael Backstrom, managing director of Energy and Environmental Policy for Southern California Edison, one of the five organizations that funded the study.

"The conclusions of this study reinforce an important part of the opportunities and economic benefits that will come from transitioning to a clean energy future as we've described in Pathway 2045- Opens in new window, our analysis of what needs to be done in California to reach carbon neutrality in 25 years," Backstrom said.

In order to meet that goal, SCE projects the need for major investment in clean energy and electrification, including the addition of 26 million EVs — over a million of those being medium- and heavy-duty vehicles — by 2045. To support that increase in EVs, there is a huge need for EV charging infrastructure.

"SCE has a plan to invest more than $1 billion in EV charging in its service area over the next few years," said Katie Sloan, SCE director of eMobility and Building Electrification. "We estimate that the 50,000 charge ports we want to add over the next few years through our Charge Ready- Opens in new window infrastructure programs will meet about a third of the need for EV charging."
Transit buses on the assembly line at Proterra's manufacturing plant in the City of Industry.
The utility recently launched a program called Charge Ready Transport- Opens in new window to help add charging stations for commercial and industrial vehicles at more than 800 locations over a five-year period. That is enough to support about 8,000 trucks, buses and other types of equipment.

The charging network is part of the growing "EV ecosystem" the LAEDC study finds is heavily concentrated in downtown Los Angeles, the South Bay and Orange County. Manufacturing is also a big part of that ecosystem.

One company providing EV jobs in the LA area is electric bus manufacturer Proterra- Opens in new window, which is featured in the study. The Burlingame-based company chose the City of Industry as the site of one of its manufacturing plants because so many of its customers are located in Southern California. Proterra CEO Ryan Popple says the manufacturing workforce the company has been able to recruit and retain here is "absolutely world class."

"One of the things that I've been so impressed with, being from the Bay Area, is how strong the manufacturing economy was in Southern California," Popple said. "I didn't really understand the deep aerospace and automotive roots that are here. We have found that Southern California has a diverse, talented, high-energy workforce that is passionate about working on technology and sustainability. "
Popple said the broader LA economic development community assisted the company in not only selecting the City of Industry site- Opens in new window, but also in coordinating with labor and local groups to facilitate hiring. Proterra currently employs about 130 workers at the Southern California plant.

"For those interested in advanced manufacturing, it's a great industry to learn," said Proterra employee Stephanie Bitetti. "There's so much to learn about electric batteries and zero-emission buses. It's an industry that's growing and there's a lot of great employment opportunities in the region."

Area community colleges provide training for those interested in pursuing a career in electric transportation. Long Beach City College- Opens in new window is among the schools offering an associate degree in advanced transportation technology. Greg Ling, who heads the program at the college, says the demand for students is increasing every year.

The program- Opens in new window, which is supported through Edison International's corporate philanthropy office, trains students to work for manufacturers, dealerships or even transit agencies and covers a wide variety of vehicles, he said.

"As more [EVs] are in operation — whether they are large vehicles, heavy-duty equipment or whether they are passenger vehicles — the market is growing," Ling says. "There aren't enough technicians that can transition from internal combustion engines over to EVs, so it's very important to get them trained and up to speed."

Recommendations in the report for improving California's competitive advantage and supporting job creation include adding state incentives for EV manufacturing and to replace anticipated declines in the federal EV tax credit, expanding purchase incentives such as rebates and trade-in credits and conducting a statewide EV marketing campaign.
Category: Electric Vehicles, Featured, General Update, Green, News, Vehicles