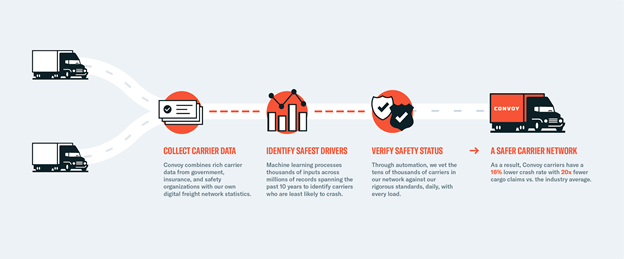 Machine learning drives safer carriers into Convoy's network, increasing on-time deliveries and cost savings for shippers 
Convoy, the nation's most efficient digital freight network, announced an industry-leading application of machine learning and automation to qualify safe drivers. The new approach processes millions of records daily to better correlate the relationship between carrier safety events, such as speeding violations or vehicle maintenance, and related crash data. Already a pioneer in carrier safety standards, Convoy's new technology identifies the safest carriers to allow into its network, yielding 16 percent fewer accidents than the industry average1.
Access to a safer carrier network increases on-time deliveries and cost savings for shippers, with lower claim rates and fewer cargo incidents. Commercial crashes are one of the major contributors to cargo loss, which is estimated to exceed $50 billion2 globally. Today, Convoy experiences a cargo claim less than once per 2,000 loads, whereas the industry experiences a cargo claim about once per 100 loads.
Historically, obtaining access to carrier safety data has been difficult due to a lack of accurate tools and resources. The most widely used information comes from the Federal Motor Carrier Safety Administration's (FMCSA) Carrier Safety and Accountability (CSA) program. The latter generates overall ratings of Unsatisfactory, Conditional, or Satisfactory for carriers; however, 95 percent of carriers have not completed a full compliance review and remain 'not rated', limiting visibility into the vast majority of safety records. This prevents an adequate assessment of carrier safety during hiring and breeds uncertainty and mistrust among shippers.
In contrast, Convoy applies machine learning to more accurately predict a carrier's likelihood of an accident by processing thousands of inputs—such as carrier crash history, vehicle maintenance, and speeding and traffic violations—across millions of records. The machine learning model produces scores for the tens of thousands of carriers in Convoy's network. Convoy's system automatically reviews those scores and qualifies or removes carriers from the network, in real-time, if the carrier falls below safe thresholds. Additionally, the model gets smarter over time, driving continuous improvements with additional data, providing shippers with increasingly high levels of safe and reliable carriers.
"Accidents are an unfortunate reality of the transportation industry," said Lorin Seeks, Director of Carrier Quality and Compliance at Convoy. "This model predicts which carriers are likely to get into an accident, enabling us to select the best carriers and build a safer carrier group for our customers. We now believe we have the industry's highest carrier safety standards, which has been echoed to us by insurance providers, auditors, and our customers."
For more information, visit https://convoy.com/shipper/quality-safety-compliance.
Category: Connected Fleet News, Featured, Fleet Diagnostics & Software, Fleet Tracking, General Update, News, Safety