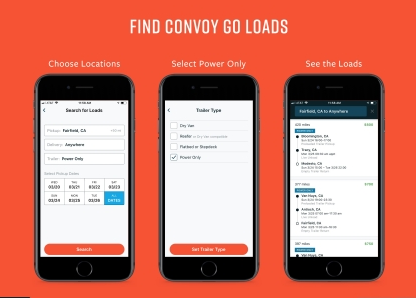 Enables Any U.S. Trucking Company or Owner-Operator to Haul Pre-Loaded Trailers
Convoy a nationwide trucking network and platform, has launched Convoy Go, a drop & hook marketplace that allows any carrier or owner-operator in the U.S. to start hauling pre-loaded trailers — and to operate at the same level as large asset-based carriers.
Drop shipments (pre-loaded trailers) currently represent the majority of Fortune 500 company shipments. To date, most of these shipments have been serviced by large asset-based carriers. Convoy Go enables any carrier or owner-operator in the U.S. using the Convoy app to operate at the same level as large asset-based carriers, in terms of fleet utilization, service levels and access to shipments. With its drop & hook marketplace, Convoy Go creates a seamless "grab and go" system, where carriers simply bring their power unit (a truck's engine and cab), pick up a pre-loaded trailer, and hit the road. To accomplish this, Convoy Go leverages its Universal Trailer Pool, a nationwide pool of Convoy-managed trailers that can be used by any driver in Convoy's network, with no rental fees.
"Convoy's data shows that up to a third of the cost of truck freight in the U.S. is attributable to time spent either waiting for appointments, or waiting at the dock to load and unload," said Tito Hubert, product lead for Convoy Go. "This massive amount of waste has a direct impact on increased transportation costs, decreased drivers' earnings and reduced overall trucking capacity for shippers. We built Convoy Go to enable drivers to increase their productivity and earnings, all while providing shippers with greater capacity."
Convoy Go reduces driver wait time in facilities from an average of three hours to less than an hour and provides 5 to 10 hour appointment windows, offering drivers more flexibility to optimize their schedule. Together, this translates into increases of carrier productivity of up to 50%. Carriers can find, book and complete a load, all using the Convoy app. Convoy's Universal Trailer Pool is shared across all shippers and trucking companies.
Since Convoy initially piloted this offering in 2017, the company has worked with select shippers and thousands of drivers to tune the model across the Northeast, Southeast, South and West regions. Today, the program is available to all shippers and carriers nationwide.
Carriers, most of which are doing drop & hook loads for the first time, experience shorter wait times at facilities and flexible appointment windows, which translate directly into increased carrier productivity:
"In the past I was able to do 3 to 4 loads a week per truck but now, with Convoy Go, I can consistently do 6 loads per week per truck," said Eduardo Canales, from Canales Trucking. "We are a small company with two trucks and, in the past, we rarely did power only loads. Now, we operate almost exclusively power only loads with Convoy. The main upside is that the wait time is very short, we are in and out of facilities in 45 minutes versus more than four hours for live loads. Also, Convoy allows us to have power only headhauls and power only backhauls which allows us to work more miles."
Shippers have historically enjoyed higher levels of service with asset-based carriers measured in terms of equipment availability, on-time pickup and on-time delivery metrics. Using Convoy Go, any trucking company can provide shippers with high levels of service.
"Convoy has been recognized by our Operations team as being consistently able to provide us capacity in a larger scale in tough times compared to some of our partners. In the past that extra capacity was exclusively live, which presented challenges during loading at our plants and unloading at our customers," said Fernando Bono, Unilever Logistics Procurement. "With the implementation of Convoy Go and consequently the expansion of drop capacity, those challenges have vanished and Convoy can provide the capabilities and service needed to our plants and customers with reduced risks to the operation. Having access to a large power-only carrier base and additional drop capability has increased our confidence in executing last-minute asks in addition to decreasing overall service and financial impacts when those last-minute requests do happen."
Category: Connected Fleet News, Driver Stuff, Featured, General Update, News, Tech Talk