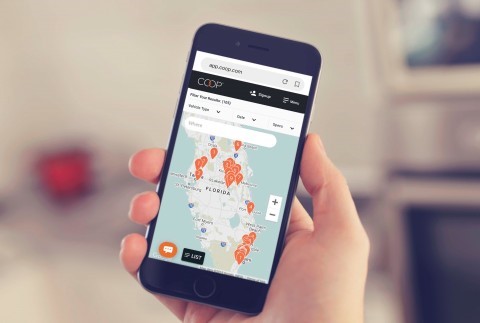 Ryder's Truck Sharing Platform Allows Businesses to Profit from Their Idle Trucks
Ryder announced the expansion of its peer-to-peer truck sharing platform, COOP by Ryder®, to Orlando, Fla. The first-of-its-kind digital platform allows fleet owners to generate revenue by simply renting their idle commercial vehicles to other businesses, providing a new source of rental trucks and trailers to a network of carefully vetted companies, large and small. First launched in 2018, the asset-sharing platform is available throughout Georgia and across parts of Florida.
"Hundreds of businesses have already generated revenue through COOP by sharing their commercial vehicles on the platform," said Rich Mohr, Chief Technology Officer, Fleet Management Solutions, Ryder. "COOP aims to bring the same model to Central Florida by giving Orlando, a bustling tourist destination with an abundance of food, beverage, and production companies, the same opportunity to generate revenue from idle equipment."
One COOP customer, Bowman Trailer Leasing, is successfully leveraging COOP in the Orlando market to share its vehicles with other business owners. "Through the COOP platform, our business has already been able to garner thousands of dollars of incremental rental revenue during the slower summer months," said Leonardo D'Agostini, Business Development, Bowman Trailer Leasing. "The COOP platform really shows how the transportation industry is evolving and how Ryder is committed to using innovation to support large and small businesses like ours."
How COOP Works
COOP is a peer-to-peer sharing platform that allows businesses to simply and safely rent commercial vehicles from each other. Fleet owners can list their vehicles on the digital platform, set vehicle availability for idle periods and, upon vehicle return, receive guaranteed payments from Ryder. All COOP users are vetted to ensure they comply with safety and reliability standards. Each transaction is covered by physical damage insurance, a $1 million liability policy and includes 24/7 roadside assistance.
COOP FAST FACTS:
There are more than 8 million commercial vehicles on U.S. roads today, and according to Ryder, approximately 25% of vehicles regularly sit idle for more than one day a week, excluding weekends
A 26-foot-long truck traveling 100 miles per day can generate owners up to $3,300 per month on the COOP platform
On average, an active COOP owner earns more than $10,600 in one year by sharing their commercial vehicles on the platform
Category: Connected Fleet News, Driver Stuff, Featured, General Update, News