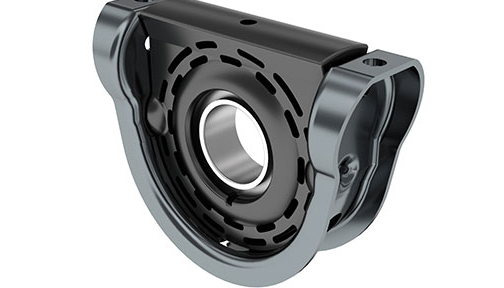 Promises Smoother, Quieter operation for Downspeed Drivetrains
Dana Incorporated offers Spicer® Dura-Tune™center bearing, which is immediately available on standard Spicer SPL® driveshafts and heavy-duty Spicer 10 Series®driveshafts. The new center bearing is engineered for durability and tuned to provide industry-leading powertrain vibration isolation and dampening for reduced driver fatigue and improved vehicle satisfaction. The unveiling was one of several new product launches made here at the 2019 Technology & Maintenance Council (TMC) Annual Meeting & Transportation Technology Exhibition.
The new Dura-Tune center bearing addresses noise, vibration, and harshness levels associated with the significantly higher drivetrain torque stresses and unique vibration frequencies created by engine downspeeding and chassis lightweighting. Its patented design helps to ensure proper installation and alignment throughout the life of the vehicle, delivering a more consistent ride while promoting drivetrain longevity. The new design also provides a more user-friendly installation, further reducing the possibility of future alignment-based issues.
"We've leveraged our vast experience, expertise, and technology solutions from proven Dana vehicle driveshaft systems to bring this solution to the commercial-vehicle market," said Mark Wallace, president of Dana Commercial Vehicle Driveline Technologies. "The new Dura-Tune center bearing is a key innovation in increasing fleet productivity and maximizing vehicle up-time. It alleviates excessive drivetrain vibration and noise that can lead to unplanned downtime and driver fatigue and promotes the life of ancillary drivetrain componentry."
The universal design of the Dura-Tune allows for the replacement of current standard SPL and heavy-duty Spicer 10 Series center bearing assemblies – as well as competitive products – and is available for retrofitting or as a replacement part through Dana's aftermarket business.
Wallace added, "Understanding the dynamic relationship between the center bearing and the overall performance of the driveshaft is imperative, regardless of whether the vehicle was just assembled by one of the industry's premier OEMs or has been on the road for an extended length of time. The Dura-Tune center bearing is an ideal aftermarket replacement option to restore proper operation and balance in the system for smooth, vibration-free performance."
Category: Engines & Drivetrains, Featured, General Update, News