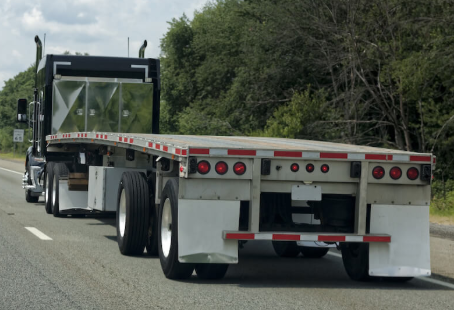 Spot truckload van and refrigerated freight volumes continued to build last week but the number of available trucks on the spot market dropped 17.5%
Spot truckload capacity falls 17.5%, rates stay neutral
Spot truckload van and refrigerated freight volumes on major lanes continued to build last week but the number of available trucks on the spot market dropped 17.5% overall, a sign that capacity is shifting to the contract market as economies open up, according to DAT Solutions, which operates the industry's largest load board network.
The reduction in available trucks did little to budge spot market pricing as national average van and reefer rates held firm week over week. Pricing power remains with brokers and shippers.
National Average Spot Rates Through May 17
– Van: $1.55 per mile, 8 cents lower than the April average
– Flatbed: $1.86 per mile, 8 cents lower than April
– Reefer: $1.97 per mile, 4 cents higher than April
Those are rolling averages for the month. Entering May, the van rate averaged $1.51 a mile, the flatbed rate was $1.81, and the reefer rate was $1.92.
Key Trends
Major van lanes hold steady: Rates were higher or neutral on 78 of DAT's top 100 van lanes by volume compared to the previous week, and volumes were higher or neutral on 77 of those lanes. Overall, the number of van loads moved on DAT's top 100 lanes increased 5% week over week.
The national average van load-to-truck ratio rose from 1.5 to 1.7, in line with last year's ratio. Although the average spot van rate is running 14% lower year over year, the volatility of March and April has subsided.
Produce season is building: The national average reefer load-to-truck ratio has increased steadily from 2.3 at the start of May to 2.9 last week. Rates were higher on 47 of the top 72 reefer lanes by volume, with produce markets leading the way:
– In Tucson, Arizona, the average outbound rate jumped 21 cents to $2.06 a mile last week and the number of loads moved was up 16.8%.
– In Stockton, the average outbound reefer rate has increased from $2.25 a mile at the start of May to $2.53 last week on a 4% jump in the number of loads moved.
– At $2.36 a mile, the average reefer rate from Fresno is up 44 cents since the start of the month on a 3% increase in load volumes.
Flatbed rates lag volumes: Volume increased on 43 of DAT's top 78 flatbed lanes. However, the average spot flatbed rate was higher on just 22 of those lanes amid slowdowns in energy, construction, and manufacturing activity.
This summary's month-to-date national average rates were generated using DAT RateView, which provides real-time reports on spot market and contract rates, as well as historical rate and capacity trends. The RateView database is comprised of more than $68 billion in freight payments. Actual spot rates are negotiated between the carrier and the broker.
Category: Featured, General Update, News