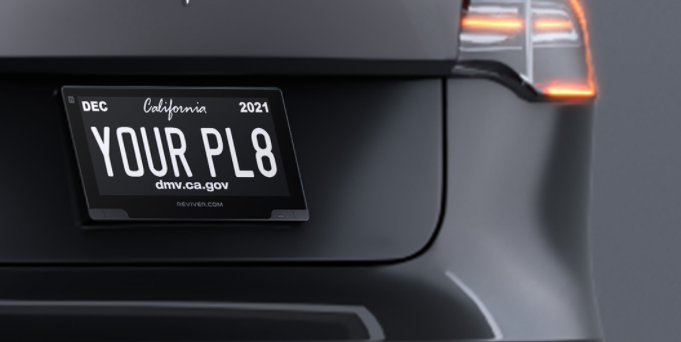 Reviver's plates are currently being sold for vehicles registered in California and Arizona and on commercial vehicles in Texas
ReviverMX, Inc., developer of the world's first digital license plate (DLP), entered into an agreement with Galpin Motors to sell the Reviver™ Rplate® through multiple Galpin Dealerships. Under the terms of the agreement, Reviver's Rplates will be sold through Galpin's Land Rover, Aston Martin, Jaguar, and Lotus outlets located in Van Nuys, California. The Reviver-Galpin alliance provides Reviver with an accelerated path to direct sales, while giving Galpin an additional revenue stream and a technical and aesthetic upgrade to further differentiate their premiere vehicle lines.
In addition to adding a boost to a vehicle's technology quotient, the Rplates have a unique look that adds a brilliant aesthetic touch to vehicles that are already among the most beautiful on the planet. From a technology perspective, the Rplate allows customers to conduct contactless DMV transactions while reducing or eliminating paper-based transactions for registration renewal. The registration renewal process is performed over the air through Reviver's proprietary smart-phone app via Bluetooth®. Once transactions are concluded, the Rplate simply updates itself – eliminating the need for stickers. Additionally, Rplate owners can display messages and modify the appearance of their plate by changing background colors through Reviver's proprietary smart-phone app.
"We are excited to be working with Reviver to offer Galpin customers an innovative product to enhance their vehicle ownership experience," said Beau Boeckmann, President & COO of Galpin Motors. Reviver and Galpin will work together to communicate the unique value Reviver's digital plates provide owners. Unlike other options available, Rplates do not compete with anything else a dealer may be offering; in that regard they are truly unique. "Rplates add incremental value to the purchasing process," said Neville Boston, Reviver Founder and CSO. "Customers notice and compliment them immediately adding a very positive dynamic to the conversation. Once they understand the Rplate's value, the common response is, 'Why didn't anybody think of this before?'"
Category: Accessories, Connected Fleet News, Equipment, Featured, Fleet Tracking, General Update, News, Products, Tech Talk