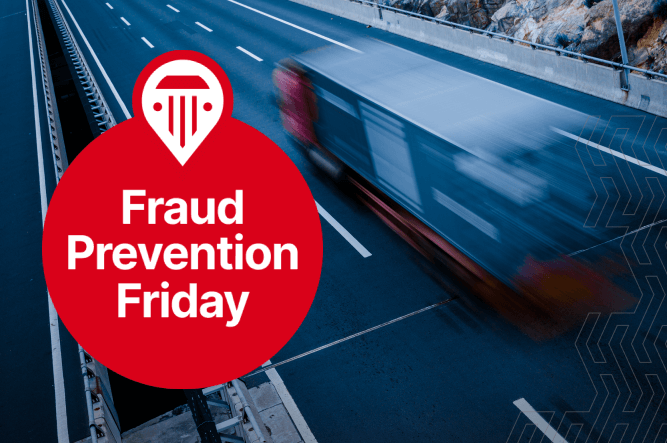 Truckstop's Fraud Prevention Friday discusses eight truck driver scams to avoid in 2023
Fraud in the freight industry is seeing a massive influx and becoming a real problem for carriers, brokers, and shippers. It's costing the U.S. shipping market millions annually and causing concern for ways to securely do business.
"To avoid falling victim to fraudulent behaviors, you need to ask the right questions and know what suspicious behaviors to look for on every single load you haul. Due diligence can save you money and possibly even your reputation." – Chief Product Officer at Truckstop, Julia Laurin.
Common trucking scams
These are the eight most common trucking scams in the transportation industry.
Double-brokering. Scammers will often claim they have enough vehicles to move freight, sign a contract with a broker or third-party logistics provider, and then re-broker with a legitimate carrier or owner-operator for an extremely high rate. The load is picked up and—before it reaches its destination—the scammers will request payment. Once the load has been delivered, the carrier who actually completed the work is left unpaid. This scam is estimated to be costing between $500-$700 million in freight annually and is becoming an increasing issue.
Driver-in-need. This type of advance payment scam often affects companies with a large number of drivers. Someone will collect business or load information from another driver, either by asking seemingly innocent questions or overhearing conversations, then use it to call dispatch and request a cash advance, saying they are a "driver in need" of assistance.
Fake repair shops, towing businesses, or trucking companies. Trucks need maintenance and repairs—that's the nature of the beast. So it's easy for a "repair shop" to make false calls to a company requesting payment for a service rendered. They've already gathered vehicle and driver information, so it looks legitimate, and the scammer will claim the load will be withheld from the driver until payment is complete.
Fraudulent trucking schools. A caller, or an email, might represent themselves as a recruiter for a known motor carrier associated with a driving school. They claim they need to hurry and hire CDL holders as soon as they have graduated, so the driver is promised a position—a common type of CDL scam. But first, they're asked to send proof of financial solvency by wiring money to the recruiter. The Federal Motor Carrier Safety Administration (FMCSA) has cracked down on truck driver training school scams, but they are still present and should be treated with suspicion.
Fuel or load advances. This type of scam frequently targets brokers, as the scammer will book loads, ask for cash advances for fuel and travel, and then never show up to pick up the load. Advance payment scams are common, but they can be avoided.
Authority impersonators. Fake police officers or Department of Transportation inspectors might contact a trucking company to demand payment over a fake violation, threatening to keep a vehicle until the money has been handed over. This can come via phone, in the mail, or through email. Be sure to vet every payment before you make it.
Scam job offers. If the offer seems too good to be true, it probably is. Especially if they request any type of money for a vetting process or proof of financial solvency.
Theft (cargo, fuel, and identity). Protecting your identity in today's online world is crucial. Keep your ID numbers, driver's license number, and any employment information confidential. As for cargo and fuel theft, watch out for intermodal hubs, where cargo is often stolen, use high security locks to secure the load, park in well lit areas, and increase security within your business and while you are on the road.
What to do after discovering fraud or theft
If you discover you're a victim of fraud or theft—you can recover. Here's what to do:
Notify your bank and credit card companies immediately. Let them know which transactions are suspicious and block any further transactions with those companies.
File a report with the Federal Trade Commission (FTC) as soon as you can to help prevent future scams. Protect yourself and others.
File a complaint and involve law enforcement. You can do this with the police, the Better Business Bureau, and the U.S. Department of Justice.
Contact your insurance company. Let them know about the theft. They can help you recover the value of what has been stolen.
Alert factoring companies and load boards. Let anyone who was involved with this shipment or transaction know that you've been scammed. Be open and honest about what happened to maintain the relationship.
Inform customers. Let them know as soon as you discover the fraud.
Confirm that your company's information is correct. Track down every bit of information on the transaction or contract and confirm all details.
Monitor your carrier profile. Especially if you suspect identity theft, be sure to watch your email and social media accounts as well as your federal profiles, change your passwords, and use additional security measures, like multi-factor authentication, to avoid future scams.
How to use technology to help prevent fraud
While you might think implementing more technology increases your risk for fraud, the opposite is actually true. Here are some ways you can use tech to help increase security within your business:
Use digital security to track cargo in real time. Use geodata in trucks, trailers, and use load alerts that let you know when a vehicle arrives or departs from a destination. You can also use this to track if the vehicle has been to a repair shop or towed recently.
Use digital freight matching technology. Be sure and choose technology that matches you with vetted companies and brokers to keep you safe.
Check the credentials of every company you partner with. This includes verifying MC/USDOT numbers and contact information. If they're not willing to give it to you, then you shouldn't be partnering with them.
Category: Driver Stuff, Equipment, Featured, Fleet Diagnostics & Software, Fleet Tracking, Fuel & Oil, General Update, News, Products, Safety, Tech Talk, Training, Vehicles